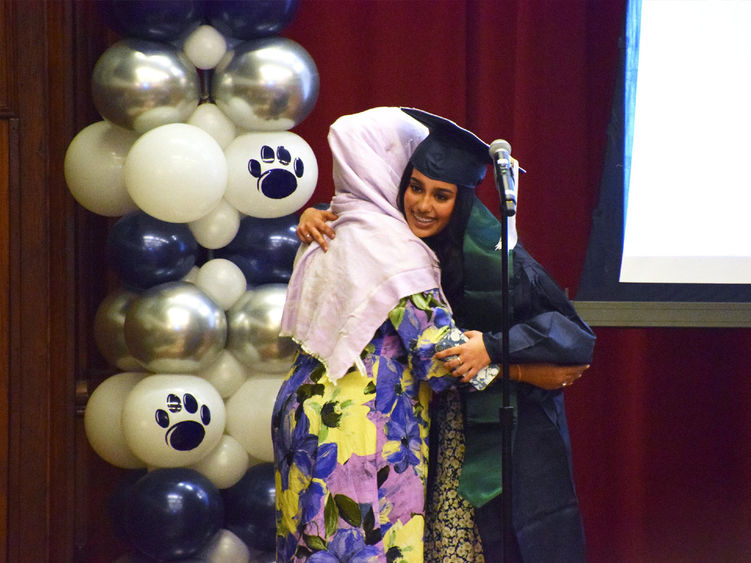 ABINGTON, Pa. — Hours before Penn State Abington's spring 2023 commencement, the Sutherland Auditorium was filled with seniors and their loved ones for the campus's traditional Cultural Graduation. Emotions in the space swung wildly between unrestrained joy and unabashed tears.  
Hosted by the Office of Diversity, Equity, and Inclusion (ODEI) at the end of each semester, the program celebrates students of color, first generation, and those who identify as LGBTQ+. And celebrate they did, with colorful dresses and carefully pressed shirts and pants peeking out from their graduation gowns and topped off with decorated caps.  
Abington Chancellor Margo DelliCarpini shared the challenges she faced as a nontraditional first generation college student. 
"There were times when I couldn't go to school because I didn't have the money or I didn't have a babysitter," she said. "Always remember that our unique experiences, our status, and our identity as nontraditional students are a positive influence." 
Aneesah Smith, the director of ODEI, reminded the audience that Abington is the most diverse campus within Penn State.  
"We must truly treasure what we have at Abington. It's a tremendous blessing," she said. 
The emotional peak of the evening occurred when each senior was called to the stage to thank their loved ones, faculty and staff. Each was joined by a key supporter who draped their neck with a graduation sash, including kente stoles fashioned from fabric students brought back from an embedded course in Ghana earlier in the semester. 
Angelea Francesco, who earned a degree in rehabilitation and human services (RHS), was accompanied by her sister and gave her thanks. 
"Philadelphia offered me so many opportunities, and I am grateful to this campus, my family, and my city for giving me everything I wanted and needed," she said. 
Edmund Wekunga, who earned a degree in biology, thanked his mother and Chris Walters, the senior coordinator for student success at Abington. 
"My mom made my goals seem achievable, and Chris Walters was instrumental in my success in achieving them," Wekunga, who hails from Uganda, said.
The father of Shyla Grace, another RHS major, offered his very personal perspective. 
"As a dad who lives on the other side of country, I want to thank the staff and everyone who took her under their wings," he said. 
Two seniors, Re'naijah Purvis and Patrice Manasse, jointly spoke to the crowd. 
"We are Penn State Abington. We are brave, we are strong, and we are unstoppable," the pair said in unison. 
International students were well-represented among the graduates including those from Egypt, Bangladesh, India, Cuba, Pakistan, and Columbia. 
Catia Rembert, the ODEI program coordinator, inducted 21 students into Alpha Alpha Alpha, the honor society for first-generation undergraduates who demonstrate academic excellence.  
"Being first can be hard and scary, but you are a source of pride to others. You finished what you started, and you now accept the obligation to thank those who came before you by serving as mentors and guides to the next generation," she said. 
Finally, Lynda Williams, Class of 1984 and the vice chair of the campus advisory board, reflected on the lessons she learned from decades in the banking industry and the support she has provided to Abington students.  
"Be excellent. Be kind. Intentionally give back and come back to Abington. Mentor, tutor, encourage, challenge, and be intentional in helping others. Celebrate, and then get back to work," she said. 
Meet more members of the Class of 2023 here, and read about and see photos from the Spring 2023 commencement ceremonies here. 
About Penn State Abington 
Penn State Abington provides an affordable, accessible and high-impact education resulting in the success of a diverse student body. It is committed to student success through innovative approaches to 21st-century public higher education within a world-class research university. With more than 3,100 students, Penn State Abington is a residential campus that offers baccalaureate degrees in 25 majors, undergraduate research, the Schreyer Honors College, NCAA Division III athletics and more.