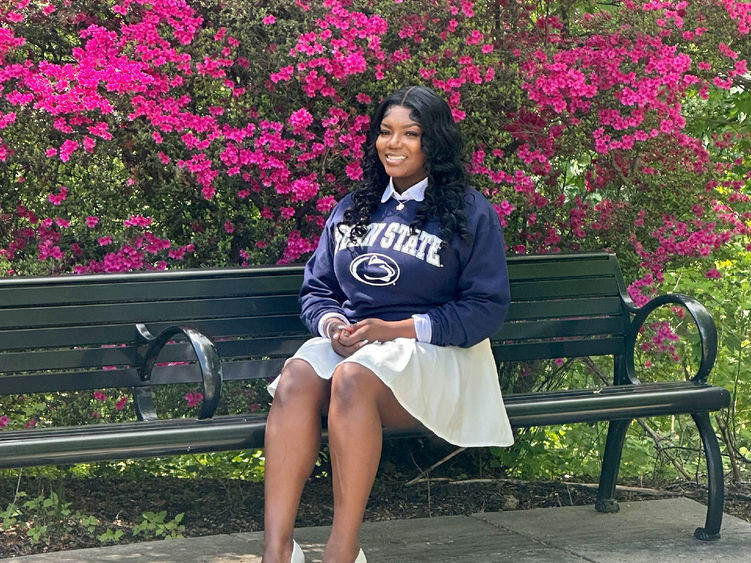 The newest Penn State Abington alumni will receive their diplomas on May 5. The 310 seniors thrived despite enduring turbulent times during the pandemic. Meet some of the leaders and trail blazers from the Class of 2023 below. 
Clifford Dennis 
Degree: Engineering 
What's next: He starts a position as a mechanical engineer at JBT Corp. in Bucks County next month. Clifford completed his internship at the firm and moved on to part-time work there while completing his degree. 
Things to know about Clifford: He was active in Student Life at Abington, juggling multiple roles in different organizations. He credits Abington faculty especially Mukul Talaty, assistant professor of engineering for his success. Clifford's voluble nature led students to choose him as the unofficial emcee at the senior engineering capstone event. 
Angelea Francesco 
Degree: Rehabilitation and Human Services with a certificate in chemical dependency prevention and counseling 
What's next: Angelea is exploring careers related to grant writing. 
Things to know about Angelea: Angelea presented at the World Professional Association for Transgender Health scientific symposium, and they interned at Vanderbilt University Medical Center in Nashville conducting a community health needs assessment for the medical center's LGBTQ health program. 
Read more about Angelea here. 
Molaea-Rene Goodman 
Degree: Psychological and social sciences 
What's next: Molaea begins a master's degree program in clinical and mental health counseling this fall.
Things to know about Molaea: She will represent Pennsylvania in the Miss Black USA pageant on Aug. 6. Her platform is mitigating the stigma surrounding mental health challenges among Black women.
Read Molaea's story here.
Patrice Manasse 
Degree: Rehabilitation and Human Services and Multidisciplinary Studies (two bachelor's degrees!) 
What's next: Patrice will begin work toward a master's degree in clinical mental health at Villanova University this fall while working there as a graduate resident life director. 
Things to know about Patrice: Patrice's parents are immigrants from Haiti, and she served as the family's unofficial financial adviser and translator. She supported her younger siblings through the college and financial aid application process. Her favorite Abington memory is working as a resident assistant at the Lions Gate and planning events for students so they could learn about other cultures and enjoy food and activities from different regions of the world. 
Joe O'Brien 
Degree: Rehabilitation and Human Services 
What's next: Joe begins work on his master's degree in occupational therapy this fall at Thomas Jefferson University. 
Things to know about Joe: He completed three years toward a degree in computer engineering at another university before returning to the Philadelphia area to discern his career path. Joe is the valedictorian for the afternoon commencement.
Jessica Peskin 
Degree: Biology 
What's next: Medical school 
Things to know about Jessica: Jessica led Hillel, an organization dedicated to engaging students in Judaism, through a surprising period of growth during the pandemic. The club's adviser called the Schreyer Honors College scholar "a born leader." She is the valedictorian for the morning commencement ceremony. 
Read more about Jessica here. 
Re'naijah Purvis 
Degree: Biology 
What's next: Re'naijah is studying for the medical school admission test and will join the U.S. Navy and participate in its Health Professions Scholarship Program. 
Things to know about Re'naijah: A first-generation college student, she is the recipient of the University's 2023 John Roe Sustainability Impact Award for supporting Sustainable Development Goals at Penn State and for her commitment to fostering justice. She was honored with the 2023 Impact Award by the Campus Advisory Board, a group of alumni and leaders in business and the region, for her influence on the campus and community. 
Read more about Re'naijah here. 
About Penn State Abington 
Penn State Abington provides an affordable, accessible and high-impact education resulting in the success of a diverse student body. It is committed to student success through innovative approaches to 21st-century public higher education within a world-class research university. With more than 3,100 students, Penn State Abington is a residential campus that offers baccalaureate degrees in 25 majors, undergraduate research, the Schreyer Honors College, NCAA Division III athletics and more.