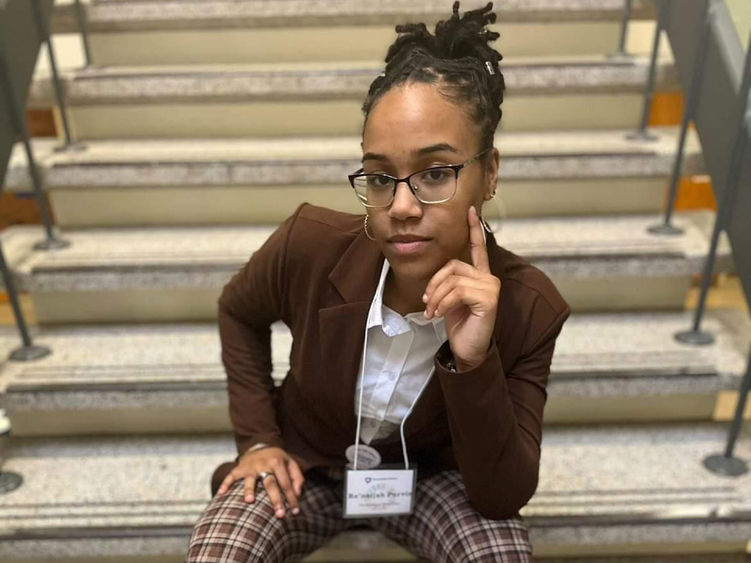 ABINGTON, Pa. — Penn State Abington senior Re'naijah Purvis serves as a resident assistant in the University's first living learning community, or LLC, focused on global sustainability, and she recently dicussed its impact on students at the Global Sustainable Action: It Starts With Us conference. 
At the Lions Gate residence hall at Abington, she coordinates programming for the Global Village LLC, a collaboration between the campus' Office of Global Programs and Housing and Residence Life units and Penn State Global. 
"Our mission is to engage a diverse group of globally minded students around the goals of intercultural exchange, developing global competency and citizenship, and fostering sustainability," said Purvis, a biology major.  
Students participate in programming based on the United Nations Sustainable Development Goals to earn a sustainability certificate. Each semester, they must attend three sustainability and three Global Programs events and participate in one community service opportunity. The certificate is so popular that it's been opened to all Lions Gate residents. 
"One example is the programming around health and well-being. We'll talk about the United Nations global sustainability initiatives and engage in conversations about the pillars of health and wealth," Purvis said. 
Leading students as they incorporate sustainability into their lives has been a learning experience for Purvis. 
"I was looking to be sustainable in my own life even before I knew about this position. It feels weird to be in this age range and focusing on something that has such a great impact on the world. At the conference, it was nice to be around peers who were focused on the same things. You create a community and create a stronger voice," she said. 
No matter who you are or where you are from, you must bring people together to convince them to advocate for themselves or for others.

—Re'naijah Purvis , Penn State Abington student
Purvis explained that since Abington has the most diverse student population within Penn State, it adds another layer to the sustainability conversation. Almost 50% of the campus population identifies as students of color, and more than 40% are the first in their families to attend college. 
"Everyone's perspective is different on which goals are the most urgent, and it's based on where they are coming from. As a Black woman, I am more inclined to focus on the goals that address racial injustice and gender equality because I have experienced the most impact in my life from both forms of inequality," said Purvis, a first-generation student. 
An important part of her work involves building relationships to unite the students around sustainability goals. 
"If people don't trust each other to lead and educate based on the way they look or their orientation, then you can't achieve your goals. No matter who you are or where you are from, you must bring people together to convince them to advocate for themselves or for others," she said. 
Purvis works closely with Olga Moskaleva, the regional global engagement coordinator, on developing programming for the LLC and on preparing for the conference. 
"Since the beginning, Olga saw something in me and empowered me throughout this whole journey. I believe that it only takes one person for someone to feel supported and to see their true power within themselves, and Olga has been my one person," Purvis said. 
Moskaleva's work with Purvis on the LLC dates back to the fall 2021 semester.
"I've been working with Re'naijah on bringing the sustainability goals to the Global Village, and this year she is leading it herself as she is extremely passionate about them. She is doing an amazing work," Moskaleva said.
Purvis' participation in the conference was sponsored by Penn State Global Southeast Region. Penn State Global and Global Programs at Abington both have contributed to the Global Village LLC programming and support.  
About Penn State Abington 
Penn State Abington provides an affordable, accessible and high-impact education resulting in the success of a diverse student body. It is committed to student success through innovative approaches to 21st-century public higher education within a world-class research university. With about 3,100 students, Penn State Abington is a residential campus that offers baccalaureate degrees in 24 majors, undergraduate research, the Schreyer Honors College, NCAA Division III athletics and more.