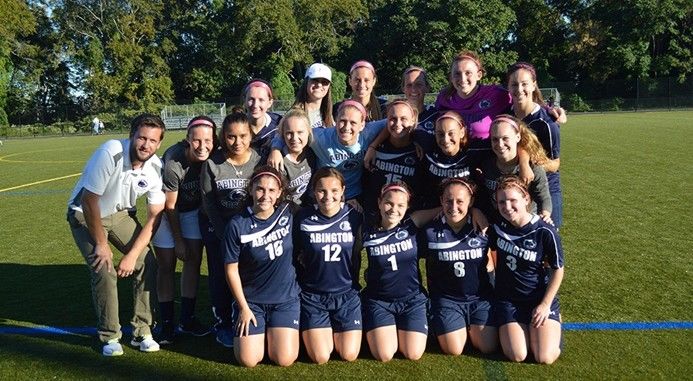 Head coach Brian Blesi and the Penn State Abington women's soccer team added to its already lengthy highlight film last week. The North Eastern Athletic Conference (NEAC) honored Blesi as coach of the year and named six student-athletes to all-conference teams.
The NCAA Division III athletics team finished the season 13-4, and 11-1 within the conference. Blesi led the women to two consecutive NEAC tournament appearances, and his record stands at 26-10 record after two seasons at Abington.

The NEAC coaches selected these Abington student-athletes for the all-conference first team:
• Senior midfielder Mallory Mugnier earned her second all-conference honor for scoring six goals and five assists this season. She holds second place in the Abington record book with 24 goals during her career.
• Sophomore forward Emily Kennedy finished third in the NEAC this season with 16 goals and six assists. Her 16 goals put her in second place for the single season record.
• Sophomore defender Greta Sheridan scored two goals in 1,351 minutes of play after changing positions this season. She earned all-conference honors as a goalkeeper in 2014.
The NEAC coaches named freshman goalkeeper Samantha Friend second team all-conference with a 1.05 goals against average.

The third team all-conference includes two Abington students. Senior defender Desirae Holmes finished the season with four goals and four assists, making her the career leader in assists with 18 during her career at Abington. Sophomore forward Michelle Latronica notched three goals and four assists while starting 14 games.