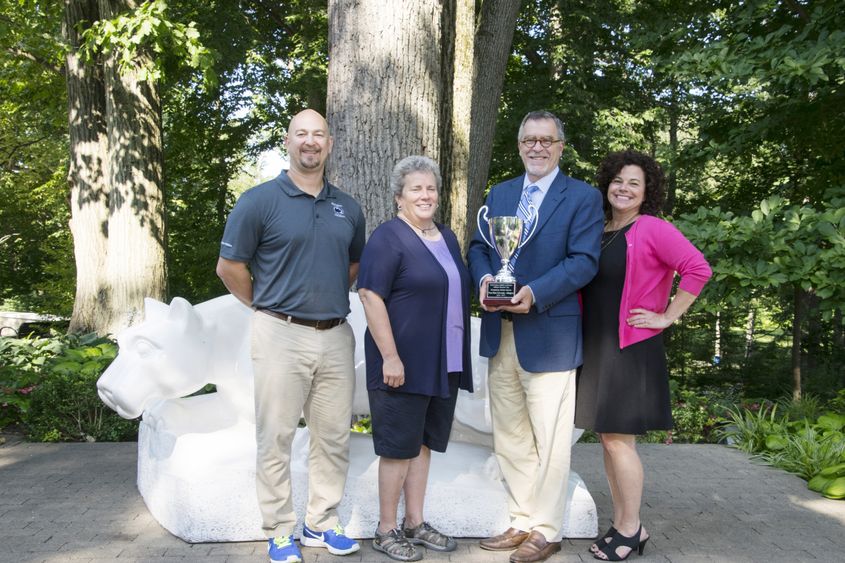 ABINGTON, Pa. — The North Eastern Athletic Conference (NEAC) awarded Penn State Abington athletics the NEAC Athletics Directors' Cup for success on the field during the 2016-17 academic year.
"We are extremely excited to have the efforts of our student-athletes recognized by the North Eastern Athletic Conference," Deb Solfaro, Abington director of athletics, intramurals and recreation, said. "It's a tremendous tribute to their hard work, dedication, discipline and commitment as they pursue both their academic and athletic endeavors.
"We are very proud of the extraordinary effort they put forth to represent Abington. They truly play for love of the game, and we congratulate them on their success."
The winner of the Athletic Directors' Cup is determined by the overall winning percentage of each full-member institution from the past academic year. The rankings are calculated by the final regular-season standings for each team sport and the championship finish for each individual sport within the NEAC.
Abington earned 103.5 points out of a possible 128 points (80.9 percent) in 13 NEAC-sponsored sports. The Abington men's teams led the NEAC by earning 50 out of 57 points (87.7 percent), while the women's programs earned a conference-best 53.5 out of 71 points (75.4 percent).
Penn State Abington, formerly the Ogontz campus, offers baccalaureate degrees in 18 majors at its suburban location just north of Philadelphia. Nearly half of our 4,000 students complete all four years at Abington, with opportunities in undergraduate research, the Schreyer honors program, NCAA Division III athletics and more. Students can start the first two years of more than 160 Penn State majors at Abington and complete their degrees at University Park or another campus. Lions Gate, our first residence hall, will open in August.