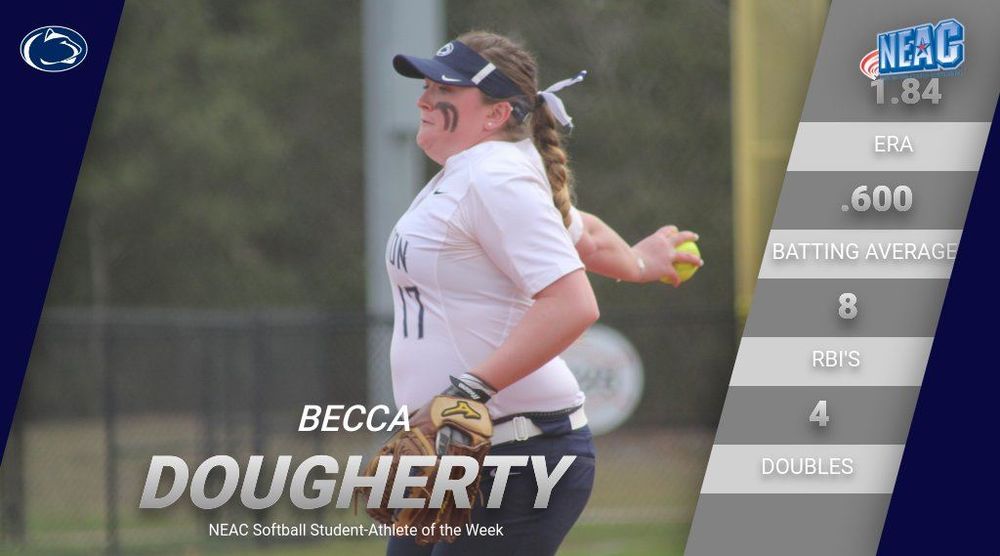 ABINGTON, Pa. — The North Eastern Athletic Conference (NEAC) selected Penn State Abington student-athlete Becca Dougherty its Softball Player of the Week. The senior went 9-for-15 to finish a week of conference play with a .600 batting average. Dougherty had eight RBIs, five runs, two doubles, and a home run in four wins. She also went 2-0 in pitching with a 1.84 ERA and 17 strikeouts in 19 innings across the four-game span.
The NEAC honored Michael Litz as its Men's Tennis Student-Athlete of the Week after winning all four of his matchups in one week. The junior earned a 6-0, 6-0 win at No. 1 singles before pairing up with Youssef Omar to pick up an 8-1 win at No. 1 doubles as Abington defeated Delaware Valley University by a score of 5-4. Litz also earned two points at No. 1 singles and doubles to lead the team to a 5-4 victory over Rutgers University-Camden.
Penn State Abington athletics scores from March 21 through March 31.
Baseball
Abington 8, Muhlenberg College 6
Abington 8, Muhlenberg College 5
Cairn University 11, Abington 6
Abington 7, Gallaudet University 0
Abington 11, Gallaudet University 5
Lacrosse (Women)
Delaware Valley University 17. Abington 5
Morrisville State University 22, Abington 2
Softball
Abington 10, Lancaster Bible College 4
Abington 11, Lancaster Bible College 3
Abington 4, Gallaudet University 2
Abington 21, Gallaudet University 3
Tennis (Men)
Abington 5, Delaware Valley University 4
Abington 5, Rutgers University—Camden 4
Abington 8, College of St. Elizabeth 1
Fairleigh Dickinson University-Florham 6, Abington 3
King's College 8, Abington 1
Tennis (Women)
Delaware Valley University 5, Abington 4
Abington 9, College of St. Elizabeth 0
Fairleigh Dickinson University-Florham 8, Abington 1
King's College 7, Abington 2
About Penn State Abington
Penn State Abington provides an affordable, accessible, and high-impact education resulting in the success of a diverse student body. It is committed to student success through innovative approaches to 21st century public higher education within a world-class research university. With nearly 4,000 students, Penn State Abington is a residential campus that offers baccalaureate degrees in 19 majors, undergraduate research, the Schreyer honors program, NCAA Division III athletics, and more.