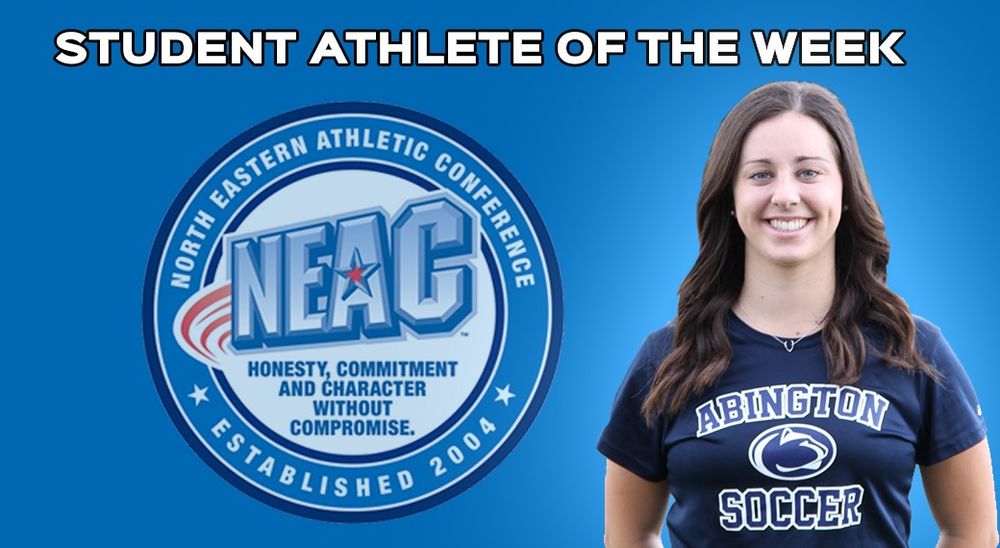 Two Penn State Abington student-athletes — one a first-year player and the other in her final season— turned in notable performances for the college recently.
Freshman golfer Shane Nocito tied for first in his initial outing for Abington while the North Eastern Athletic Conference named senior Greta Sheridan its women's soccer defensive Student-Athlete of the Week. __________________________________________________________
Penn State Abington athletics scores for the week beginning Sept. 25.
Cross Country: Lancaster Bible College Homecoming Invitational
Men's Team: Individual finishes out of 47 runners
13th place: Gregory Gallagher 30:59
24th: Tim McCreesh 32:45
25th: Dominic Pignatelli 33:15
30th: Nate Louis 36:30
42nd: Yu Nan Sun 42:12
Women's Team: Individual finishes out of 48 runners
Fourth: Lily Magliente 26:27
28th: Samantha Tropp 33:15
40th: Kiara Gundy 38:02
Golf: Ursinus Invitational at Raven's Claw Golf Club
Team: Sixth place out of nine
Individual scores on the Par 71 course with 47 participants
First place (tie): Shane Nocito 71
10th place (tie) Dicky Rhoads 80
26th (tie) Matthew McGettigan 88
40th: Joseph Moran 99
45th: Kevin Burke 116
Soccer: Men
Abington 2, Bryn Athyn College 1
Rutgers Camden 2, Abington 1
Soccer: Women
Lancaster Bible College 3, Abington 1
Bryn Athyn College 2, Abington 0
Volleyball
Rutgers-Camden 3, Abington 0
Albright College 3, Abington 0
Penn State Abington, formerly the Ogontz campus, offers baccalaureate degrees in 19 majors at its suburban location just north of Philadelphia. Nearly half of our 4,000 students complete all four years at Abington, with opportunities in undergraduate research, the Schreyer honors program, NCAA Division III athletics, and more. Students can start the first two years of more than 160 Penn State majors at Abington and complete their degrees at University Park or another campus. Lions Gate, the first residence hall, opened in August 2017.