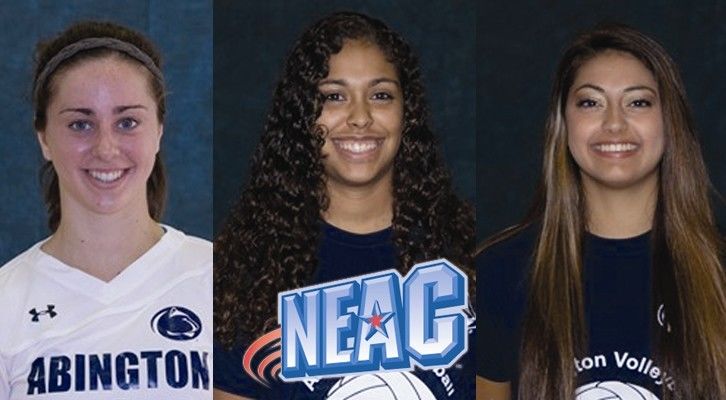 Breaking records, scoring goals, and posting shutouts – it's been an amazing run this fall for Penn State Abington student athletes, and voters for the North Eastern Athletic Conference player of the week honors noticed. In the NEAC's latest poll, six Abington students earned honors for outstanding performances.
Abington's sophomore women dominated this week:
Business major Sam Amaro earned the overall women's volleyball player of the week.
Voters chose her teammate Victoria Lohman as the defensive player of the week. Lohman, a biology major from Maryland, also posted her 1,000th career dig.
Winning four matches led Honora Hegarty to the top of the list for women's tennis player of the week. The Abington native is the reigning NEAC Rookie of the Year.
The remaining three Abington athletes represent soccer, tennis, and cross country. A pair of shutouts earned first-year goalkeeper Margaret Sheridan the women's soccer defensive player of the week award. She has six shutouts this season. And a strong outing by junior science major Monte Dunson led to men's tennis player of the week honors.
For the fourth week this fall, Alexander Kane ran away with the men's cross-country runner title. The junior business major took eighth place out of 233 runners at the Dickinson College Invitational against nationally ranked teams from across NCAA Divisions I, II and III.
For box scores and complete game coverage, go to www.abingtonsports.com/index.aspx.
Penn State Abington fields 13 men's and women's teams as a member of the NCAA Division III. For more information on Abington NCAA Division III athletics, go to www.abingtonsports.com