Sports scoreboard: Week of Oct. 23, 2016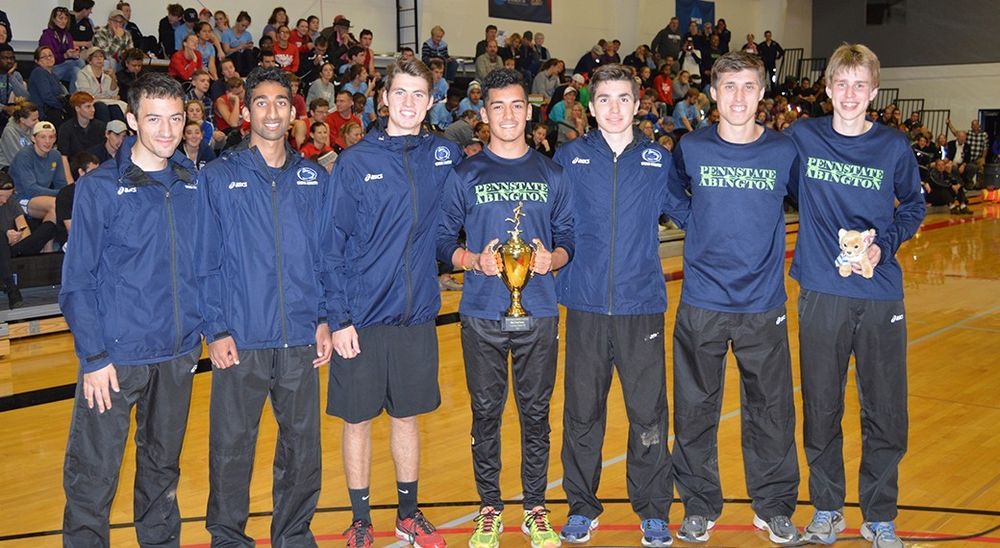 Penn State Abington athletics scores and achievements for the week of Oct. 23, 2016.
Cross country at the North Eastern Athletic Conference (NEAC) championships
Men's team: Second place
Men's individual:
Fourth place: Yannik Cahnbley, 27:34 (first team all-conference)
Fifth: Nelson Costa Jr., 27:57 (second team)
11th: Michael Cooney, 28:35 (second team)
16th: Troy Green, 28:51 (third team)
28th: Alexander Beltz, 30:26
45th: Minaam Ahmed, 31:33
50th: Gregory Gallagher, 32:15
Women's team: Third place
Women's individual:
Eighth place: Megan Glanz, 25:49 (second team all-conference)
Ninth: Valerie Santangelo, 25:50 (second team)
14th: Claire Reeves, 26:18 (second team)
36th: Ivana Camacho, 28:37
58th: Caileen Dolan, 31:01
64th: Alexandra Ryan, 32:52
Golf at the Rutgers-Camden Fall Invitational
Team: Third out of eight teams
Individual:
First place: Mike Lam, 72 (2 over par)
16th: Andrew McGinnis, 83
22nd: Matthew McGettigan, 86
23rd: Sean Ailtmar, 87
31st: Stephen Levchenco, 89
Soccer (Men)
Abington 2, Keuka College 1
Penn State Berks 7, Abington 1
The men's soccer team ended the season at 11-3-1, its best showing in four years as they head to the playoffs.
Soccer (Women)
Abington 1, Keuka College 1
Penn State Berks 3, Abington 1
The women's soccer team closed the season with a 9-6-1 record and a playoff berth.
Volleyball
Abington 3, Delaware Valley University 1
Abington 3, Bryn Mawr College 0
Goucher College 3, Abington 2
The women's volleyball team ended the season with a 21-9 record and head to the playoffs for the first time since 2012.
++++++++++++++++++++++++++++++++++++++++++++++++++++++
Penn State Abington, formerly the Ogontz campus, offers baccalaureate degrees in 18 majors at its suburban location just north of Philadelphia. Nearly half of our 4,000 students complete all four years at Abington, with opportunities in undergraduate research, the Schreyer honors program, NCAA Division III athletics, and more. The Lion's Gate residence hall will open in August 2017.