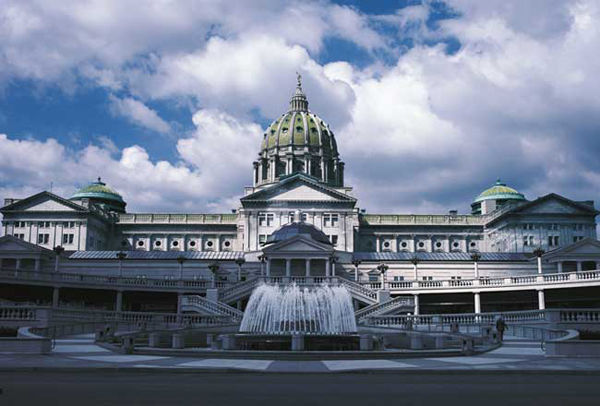 UNIVERSITY PARK, Pa. — The Pennsylvania Capitol will be bustling with undergraduate students eager to share their research with the public and state legislators at the Undergraduate Research at the Capitol Conference on April 5.
Colleges and universities throughout Pennsylvania are invited to participate in the conference, but only two posters are permitted for every 10,000 undergraduates at each institution, according to the conference's website. Twelve Penn State students from the University Park, Abington and Lehigh Valley campuses, representing eight research teams, will make the journey to Harrisburg.
Beyond presenting their research, the conference also offers students an opportunity to meet with state legislators and hear a keynote lecture presented by Bryan Krock, assistant director of the division of genomic diagnostics at the Children's Hospital of Philadelphia and a strong advocate for advancing undergraduate research. Krock graduated from Penn State University Park and began his college career at Penn State Lehigh Valley.
For Jacqueline McLaughlin, an associate professor of biology at Penn State Lehigh Valley and co-chair of the organizing committee for the URC-PA event, Tuesday's events represent the capstone celebration for undergraduate research throughout the Commonwealth.
"Higher education in Pennsylvania is helping to shape the STEM professionals, creative minds and artistically talented individuals of tomorrow," McLaughlin said. "At the URC-PA event, select students get to share their research scholarship and passion in their chosen field. The legislators are just 'wowed' by how brilliant these young people are, and how the faculty and institutions that chaperone them promote the highest levels of academic excellence. Undergraduate research truly, and I mean truly, is a valued and integral part of collegiate curriculum in Pennsylvania."
Assistant Vice President and Assistant Dean for Undergraduate Education Mary Beth Crowe said she looks for a diverse range of student projects to represent Penn State at the annual conference. This year, the posters range from the "Use of Gas Jets for Characterizing Diesel Injections" to "The Effect of Belief in Pure Evil on Evaluations of Gun Violence Perpetrators."
Crowe said participating students have the opportunity to meet with their state legislators and are typically brought into the Senate or House chambers to be recognized and applauded. "Our students are thrilled to share their work in that setting and interact with state government officials," Crowe said.
Madison Miller, a senior at University Park and a Schreyer Honors College Scholar, was one of the students selected to participate in the conference. The Berwyn native is pursuing a degree in corporate innovation and entrepreneurship from the Smeal College of Business. She is also majoring in community, environment and development in the College of Agricultural Sciences.
Miller's project, "Rethinking Education on Native American History and Culture," was partly inspired by a class she took in the spring and summer of 2014 called "Exploring Indigenous Ways of Knowing."
"We studied indigenous world views, including approaches to science, approaches to relational knowledge considering land, family customs and practices, Native American perspectives in literature, and issues of indigenous identity," Miller said. "After the course, we visited two reservations in Minnesota and spent time with the Ojibwe people. I wanted to know more of the story and how people who are different from me see themselves in the world."
Miller's research is the basis for her honors thesis, which will explore the issue of equity in the public education system.
"Her thesis work is very important research in the context of cross-cultural understanding, perspectives on diversity, and bringing those considerations to young people in the course of their educational experiences and their intellectual and cultural development," said Ted Alter, Miller's thesis adviser and a professor of agricultural, environmental and regional economics.
Alter stressed that events like the Undergraduate Research at the Capitol Conference and undergraduate research projects are not just "academic enterprise." In the thesis class he advises, Alter notes how undergraduate research provides a platform for exchanging different opinions and viewpoints. Students take on intellectual leadership and teaching roles as they share their expertise and discuss their experiences with one another.
Learn more about research opportunities for undergraduates supported by Penn State Undergraduate Education at undergradresearch.psu.edu.
The URC-PA Poster Conference is sponsored by Pennsylvania State Senate President Pro Tempore Joseph B. Scarnatti III and the Senate Republican Caucus.
Contact
Beth Kocher Gormley
Director of Communications, Undergraduate Education