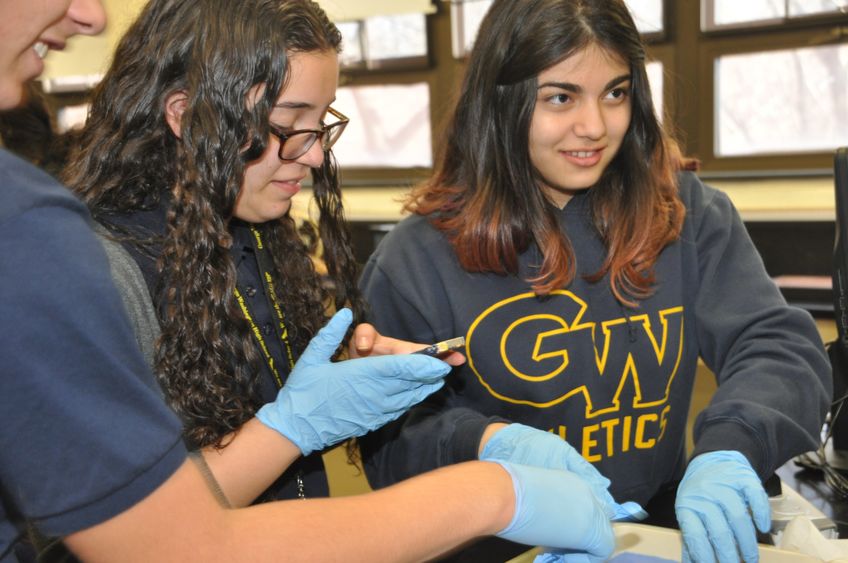 ABINGTON, Pa. — A series of mini-grants awarded to five Penn State Abington faculty are funding projects that support student engagement in Philadelphia. 
Kathleen Fadigan, assistant professor of education and program chair for rehabilitation and human services (RHS), designed a drug and alcohol prevention course for a Philadelphia high school with the first Seeding Change grant awarded to Abington faculty. 
Fadigan and six RHS majors implemented the eight-week program, which culminated in the George Washington High School students visiting Abington. The 15 ninth-graders toured the campus and connected with Frances Veale, assistant professor of RHS. After lunch with Abington students, they observed Shelly Grinar-Boyd, lecturer in biology, at work in a lab.
Kozeta Seferi, a math teacher at the high school, said the experience was important for her students.
"It's been wonderful. They are learning critical-thinking, and it's a college prep program, too," she said.
Seeding Change grants support student engagement in the city with priority given to projects that co-create innovative solutions to problems with community partners, use participatory methods in research that address inequities or injustice, or amplify the voice of and/or extend the reach to urban populations or audiences.
Four more Abington professors recently received Seeding Change grants from the Penn State Center for Urban Engagement in partnership with the Penn State Center Philadelphia. 
Exploring Immigrant Stories in Philadelphia through Service Learning
Award: $2,500 to Abigail Akande, assistant professor, RHS
"My vision is to engage RHS 300 students with immigrant students and/or parents in Philadelphia in order to explore their narratives and garner firsthand accounts of their needs and concerns as it relates to education, health and employment," Akande said.
Culturally Responsive Pedagogy Pre-Student Teaching Experience
Award: $5,000 to Ann Martinelli, lecturer in education and program coordinator for elementary and early childhood education
The objectives are:
to develop a collaborative relationship between Abington and McClure Elementary School in Philadelphia that is mutually beneficial to both populations;
to provide Abington teacher candidates, who could potentially teach in the Philadelphia School District, with an experience that deepens their understanding of teaching children of color in an urban community.
Philadelphia as Social Laboratory
Award: $2,875 to Laura Orrico, assistant professor of sociology
This new course will challenge students' conventional wisdom of urban life and expose the specific policies and practices that play a role in shaping the course of urban growth and urban development. Students will gain exposure to the pathways available to effect change in education, housing, immigrant rights and public arts projects.
The Loving Project Study Guide
Award: $5,000 to Paula Smith, special assistant to the chancellor for strategic initiatives; director, Center for Intercultural Leadership and Communication; associate librarian
The grant will fund a study guide to accompany The Loving Project podcast for release on June 12, which is Loving Day. On June 12, 1967, in the case of Loving v. Virginia, the U.S. Supreme Court unanimously ruled that state laws prohibiting mixed-race marriages were unconstitutional. The Loving Project is documenting the experiences of couples whose marriages would have been illegal in some states. The guide will be shared with kindergartens through colleges throughout the region. Abington students will partner with their cohorts from the University of Pennsylvania's School of Social Policy and Practice to create the study guide.
About Penn State Abington
Penn State Abington offers baccalaureate degrees in 19 majors at its suburban location just north of Philadelphia. Nearly half of its 4,000 students complete all four years at Abington, with opportunities in undergraduate research, the Schreyer honors program, NCAA Division III athletics, and more. Students can start the first two years of more than 160 Penn State majors at Abington and complete their degrees at University Park or another campus. 
About the Penn State Center Philadelphia
The Penn State Center Philadelphia fosters collaboration among communities, practitioners and scholars to generate social and environmental justice solutions to pressing problems surrounding equity, inclusion and quality of life.