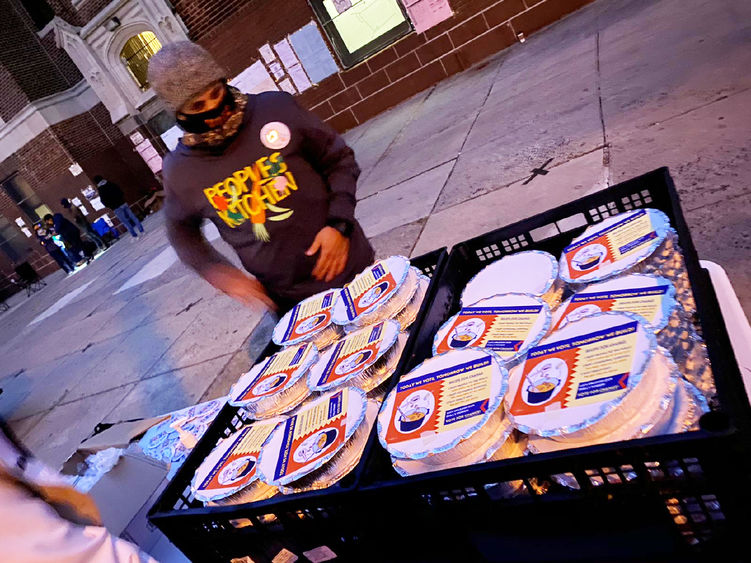 UNIVERSITY PARK, Pa. — The People's Kitchen, led by Penn State Center Philadelphia and other Penn State partners, has received the 2021 Penn State Award for Community Engagement and Scholarship. The effort is led by Shivaani Selvaraj, director, and Carly Pourzand, community engagement specialist, both at Penn State Center Philadelphia.
The award recognizes a project that best exemplifies Penn State as an "engaged institution," which the Kellogg Commission defines as an institution that has redesigned teaching, research, and extension and service functions to become even more sympathetically and productively involved with its communities.
Based in Philadelphia, The People's Kitchen is a food security and workplace project designed to foster community partnerships that promote community organizing and leadership development. Together, community members work with chefs and restaurant workers to prepare about 1,075 meals a week. Those meals are distributed to food insecure Philadelphians.
The People's Kitchen builds from five years of Penn State Center Philadelphia pilot projects to empower communities to be a part of the solution to food insecurity. The project brings together several community partners to address issues related to hunger, urban agriculture, development and displacement and immigrant workers' rights.
During the COVID-19 pandemic, the community found food insecurity was on the rise while many in the restaurant industry were under- or unemployed. In Philadelphia, food insecurity increased nearly 4% to about 20% while unemployment shot to 17.7% in August 2020. The project relied on support from those workers, community leaders and experts at Penn State, allowing all three to benefit during the effort.
"This collaboration increases the capacity of community and professional leadership to be self-determining in envisioning and implementing processes for change," a nominator said. "The coordination and facilitation of these programs is vital for the ongoing success of the Center in being responsive to current events and gaining an understanding of local knowledge needs, assets and opportunities."
In addition to serving food, community members transformed unused land to grow food in more than 70 raised garden beds.
Additional partners in the effort include Penn State Brandywine; Penn State Abington; College of Education, University Park; College of Agricultural Sciences, University Park; and College of Health and Human Development, University Park.