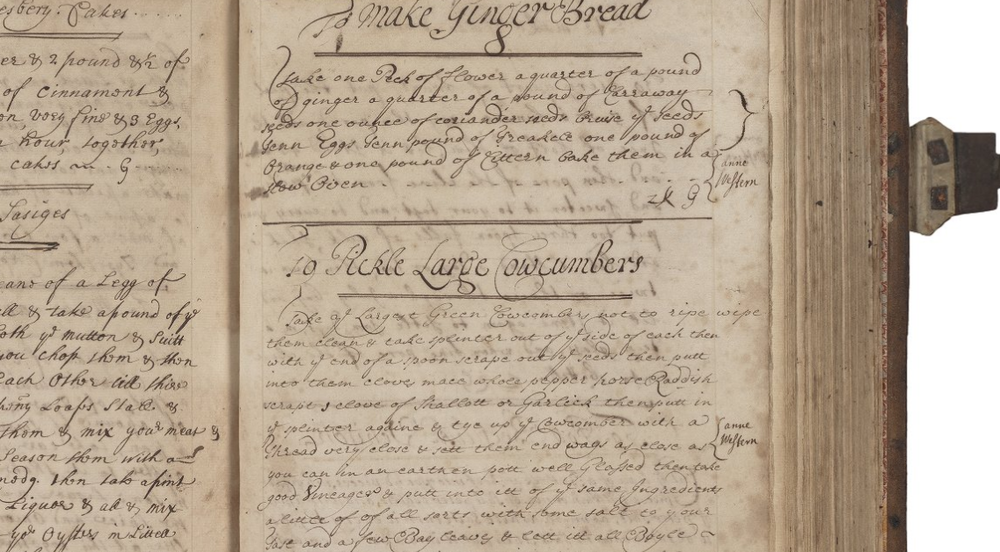 PHILADELPHIA — Students from Penn State Abington are inviting the public to a "Taste of 1677" an interactive history exhibition about food, medicine and science from their yearlong exploration of a 17th-century recipe manuscript from 5-7:30 p.m. on Friday, Nov. 22, at the Penn State Center Philadelphia located at 675 Sansom St. From knotted cookies, almond pudding and violet cakes to exploring the process of theorizing, testing and determining cures and remedies to what ails — all will be shared along with a few lessons in world history.
Under the direction of Marissa Nicosia, assistant professor of Renaissance literature at Penn State Abington; Christina Riehman-Murphy, reference and instruction librarian at Penn State Abington; and Heather Froehlich, library informatics librarian at Penn State University Park; students began studying culinary and medicinal knowledge in early modern households by creating a transcription of a manuscript from the Folger Shakespeare Library in Washington, D.C. This year the "What's in a Recipe? Reading Early Modern Recipe Books" project has been made possible through a Seeding Change grant from the Penn State Center Philadelphia and is housed in the Abington College Undergraduate Research Activities (ACURA) program. "Taste of 1677" is a culmination of the project.
"Recipe manuscripts from the English Renaissance show the circulation of ingredients around the world. The introduction of ingredients from the Americas into the English diet, the lowered cost of sugar with the rise of plantation slavery in European colonies in the Caribbean, and the increased importation of spices from South Asia that were also cultivated under exploitative labor conditions," Nicosia said. "Recipe books from 1677 and thereabouts, mark how English women, men and households integrated these ingredients into their diets, understood their medicinal properties, benefited from and were complicit in, new networks of trade and colonial ventures."
Amanda Pickett, a senior majoring in English, said she discovered the process was about more than transcription.
"I had to identify the words, but I also had to derive meaning from the words, the ingredients, the process and sequence of the recipes — along with a million other minute details that were considered when the recipe was produced and written," Pickett said. "A word or an ingredient is not simply that, it's another piece of the puzzle that unlocks history, language, culture and legacy that one person passed on to the next from the early modern era — which has a lasting influence on what we know and understand today."
Alexis Amicone, a senior majoring in English, said translating the recipes gave her a great respect for how society has grown and evolved.
"These recipes were a staple in middle- and higher-class households and they had a huge impact on their status within their social circles," Amicone said. "This was something that wholly belonged to women, in a time when they were viewed mostly as something that belonged to someone else. Reading these books gives me a soft sense of pride for the early modern woman."
The "Taste of 1677" event is free and open to the public, but registration is required.