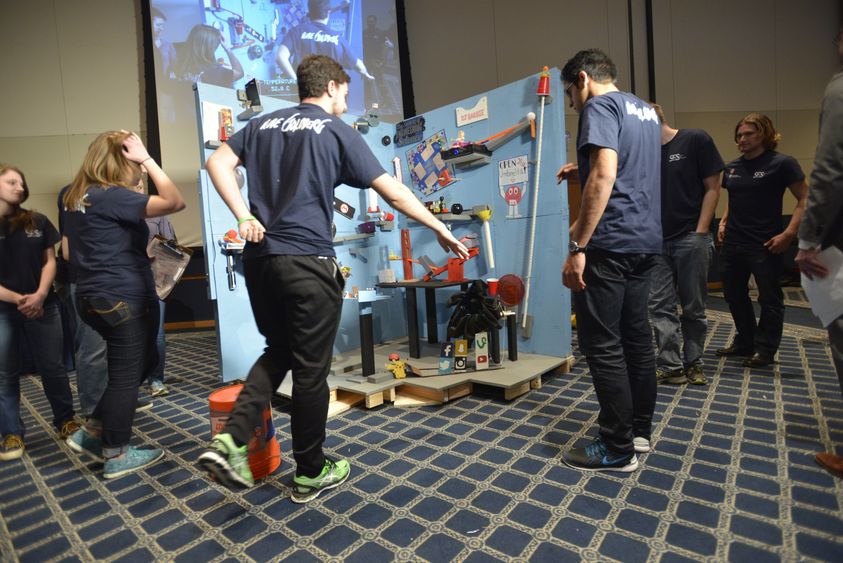 UNIVERSITY PARK, Pa. — For the second year in a row, the Society of Engineering Science (SES) took first place and the People's Choice Award at the Penn State Regional Rube Goldberg Machine Contest.
This year's regional competition was held before a crowd of more than 300 at the Penn Stater Conference Center Hotel on Feb. 27.
The annual competition challenges students to use innovative ideas, unconventional problem-solving skills and storytelling to design a machine that completes a simple task in a complex manner. The 2016 national challenge is to design and build a machine that opens an umbrella in 20 or more steps.
SES's decades-themed machine took the audience from the 1920s to the present day, incorporating iconic items and historical figures such as Amelia Earhart, the Beatles' Yellow Submarine, VHS tapes, a Magic 8 Ball, a Rubik's Cube and the Teenage Mutant Ninja Turtles.
Team co-captain Ryan McFadden, an engineering science junior and Schreyer Scholar, said the team came up with the decades theme to be able to "tell an even better story than they did with last year's machine."
Engineering sophomore and Schreyer Scholar Claire Rosenberger said she had so much fun competing last year that she "just had to come back."
The SES team also included: co-captain and engineering science senior Greg Risser, Ibrahim Al'Abri, Ryan Gorel, Dan Henderson (Schreyer Scholar), Mike Jadwin, Sal Kadhi, Mandi Kelly, Sarah Masters (Schreyer Scholar), Lukas Miller, Rebecca Terosky, Yaman Trivedi, Ryan Waskiewicz and Matt Wehner (Schreyer Scholar).
The Penn State Harrisburg student chapter of the American Society of Mechanical Engineers (ASME) took second place again this year. Their machine's theme was "Comic Book Superheroes."
MBA student and mechanical engineering alumna Shaynia Guerriero, who competed in two previous Penn State Regional Rube Goldberg Machine Contests, said she most enjoys seeing the kids in the audience get excited when they watch all the steps of the machine come together.
"I just love the looks on their faces when they get to see the machines up-close after the contest," said Guerriero.
The rest of the ASME Harrisburg team members were: co-captains Samantha Heisey and James Then, Anthony Glusko, Mim Haque, Mason Levis, Nick Martz, Cavin Miller, David Poole, Jacob Ranck and Carly Taubenkraut.
The Penn State University Park student chapter of ASME and the Engineering Leadership Society (ELS) teamed up to construct a machine and placed third with their entry, "Dorm Room on a Rainy Day."
They also encouraged audience engagement by creating a scavenger hunt for kids to find specific items on their machine.
ASME University Park/ELS included: co-captains Chloe Melnick and Anne Pauley (Schreyer Scholar), John Barczynski (Schreyer Scholar), River Dolfi, Hunter Jones, Nick Kneier, Emily Peters and Advaita Tiwari.
Other contestants in this year's regional contest included the Institute of Electrical and Electronics Engineers/Association of Women in Computing, the Penn State Abington Engineering Club, Penn State Lehigh Valley Engineering and the Society of Hispanic Professional Engineers.
The competition, now in its 11th year at Penn State, is sponsored by the Penn State Engineering Alumni Society.
Teams were scored on a 100-point scale on two runs of their machine, based on the following criteria: machine design (everyday items, laugh barometer, theme or story, artistry and construction, and absurd complexity) and machine runs (reliability and repeatability). Points were deducted for rule violations and out of bounds objects.
The first-, second- and third-place teams received a trophy and $300, $200 and $100, respectively.
In addition, SES and ASME Harrisburg will receive funding to travel to the National Rube Goldberg Machine Contest on April 9 at the Center of Science and Industry in Columbus, Ohio.
The Rube Goldberg Machine Contest is named after the late artist and cartoonist Reuben Lucius Goldberg, who created cartoons in the mid-1900s that combined simple machines and common household items to create wacky contraptions that accomplished trivial tasks.
Goldberg's "Inventions" cartoons became so well known that Webster's Dictionary added the term "Rube Goldberg" to its listings, defining it as "accomplishing by extremely complex, roundabout means what seemingly could be done simply."
Additional information is available online at http://www.engr.psu.edu/rube-goldberg/.