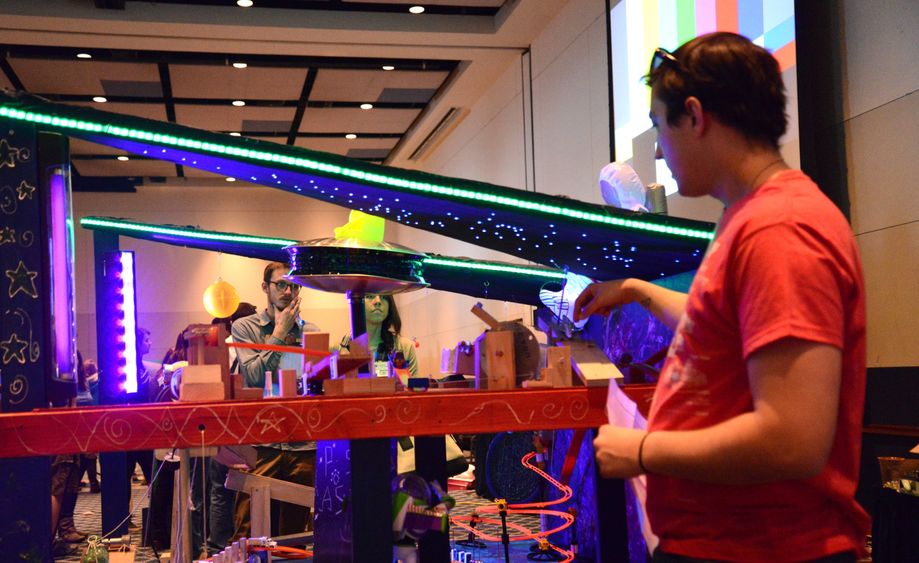 UNIVERSITY PARK, Pa. — Seven teams of engineering students are set to compete in the 2016 Penn State Regional Rube Goldberg Machine Contest at 1 p.m. on Feb. 27, in Presidents Hall at the Penn Stater Conference Center Hotel on the University Park campus of Penn State.
Sponsored by the Penn State Engineering Alumni Society, the contest is free and open to the public. Doors will open at 12:30 p.m.
Held annually, the Rube Goldberg Machine Contest challenges students to use innovative ideas, unconventional problem-solving skills and a little humor to design a machine that completes a simple task in a complex way. This year's national challenge is to design and build a machine that opens an umbrella in 20 or more steps.
Teams entering the 2016 Penn State competition include the American Society of Mechanical Engineers (Harrisburg campus), the Engineering Leadership Society/American Society of Mechanical Engineers (University Park campus), the Institute of Electrical and Electronic Engineers/Association of Women in Computing, the Penn State Abington Engineering Club, Penn State Lehigh Valley Engineering, the Society of Engineering Science and the Society of Hispanic Professional Engineers.
The top three teams will win trophies and cash prizes, and the first- and second-place teams will receive funding to travel to the National Rube Goldberg Machine Contest on April 9 at the Center of Science and Industry in Columbus, Ohio.
The Rube Goldberg Machine Contest is named for the late cartoonist, Reuben Lucius Goldberg (1883-1970). The award-winning engineer-turned-artist is best known for his "Inventions" cartoons, which poked fun at the new technology of his day by portraying simple machines and household gadgets in complicated and wacky ways. Goldberg's cartoons became so well known that Webster's Dictionary added the term "Rube Goldberg" to its listings, defining it as "accomplishing by extremely complex, roundabout means what seemingly could be done simply."
More information about the Penn State contest is available at www.engr.psu.edu/rube-goldberg/.