An art dealer opened home to five young artists, professor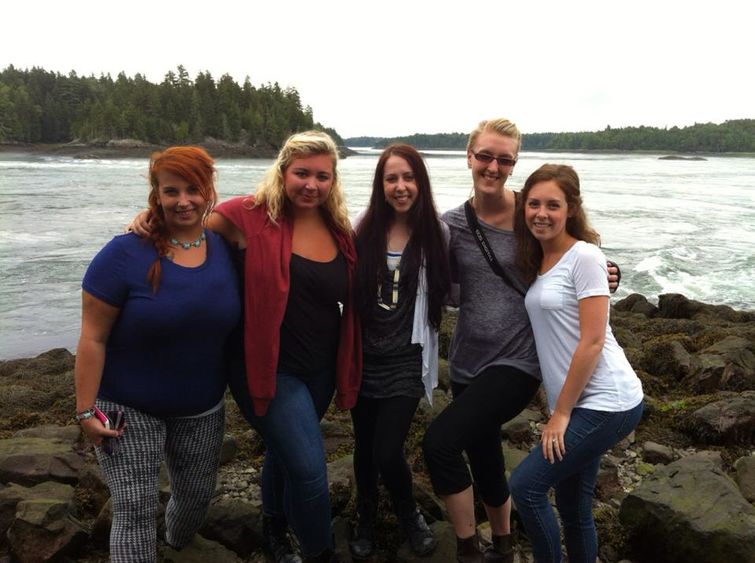 Five young artists spent a week ensconced in a tiny Maine village near the Canadian border. The abundance of lobsters and fresh air starkly contrasted with the dilapidated homes dotting the nearby Native American reservation.
"Conversations" with the landscape and the locals fueled unique visual responses, which was Penn State art professor Yvonne Love's intention when she spearheaded the residency for her Abington students.
Love's connection with onetime New York art dealer Brenda Taylor brought the close community of Abington women to the coastal town of Machiasport. Taylor opened her house as a studio space for the week, which was key to the outcomes and experiences of the artists.
"We fed off of each other's energy and excitement in a communal studio and living environment," Abington senior Susan Stanton said.
Each artist plucked remarkably different threads from the experience. The clear frigid waters sent Kate Roche, who majors in art with a minor in biology, scrambling for her microscope. She developed paintings and mixed media pieces based on her observations.
Senior Rebecca Elmer discovered a book of local Native American legends that entranced her. She created gourd carvings and paintings based on the character of The Rabbit Magician.
It was Stanton's first time exploring the far northeastern United States, and her sense of wonder led the way.
"I wanted to let the environment dictate and influence my approach," she said. "I was experimenting with printmaking processes so I brought materials that allowed me to print with found objects."
A stop at the Harvard Museum of Natural History on the 700-mile trip to Machiasport also impacted Stanton's choices for the week.
"The vibrant colors, facets and textures of the rare rocks, minerals and gemstones were so inspiring and influenced my color palette," she said.
"I appreciated (the) professional advice and guidance as every learning experience helps me develop my own voice and presence as an artist."

-- Susan Stanton, senior art major
For these creative women forging careers in art, Taylor and Love were ideal mentors, sharing insider knowledge about the art world and gallery scene.
"I appreciated Yvonne's and Brenda's professional advice and guidance as every learning experience helps me develop my own voice and presence as an artist," Stanton said.
Stanton shared this reflection on the Maine residency written shortly after she returned:
While exploring Maine, aspects of the landscape and community struck me as extraordinarily beautiful. Much of the scenery is characterized by vast open spaces surrounded by dense, dark trees often adorned with dilapidated or abandoned houses and trailers.
These observations provoked ideas, questions, reflections and topics to explore. How can we appreciate and process beauty without contrast, without history?
How can we expose our own narrative or others' stories through our work? The idea of exposing stories came into play as I hand-printed on old book pages found at a local antique store, revealing words behind hand-printed monotypes. These ideas and questions are topics that I will continue to reflect on and incorporate in my art practice.
Pieces created during or influenced by the residency will be displayed at Abington early next year.
To learn more about the Abington art program, go to http://www.abington.psu.edu/art.