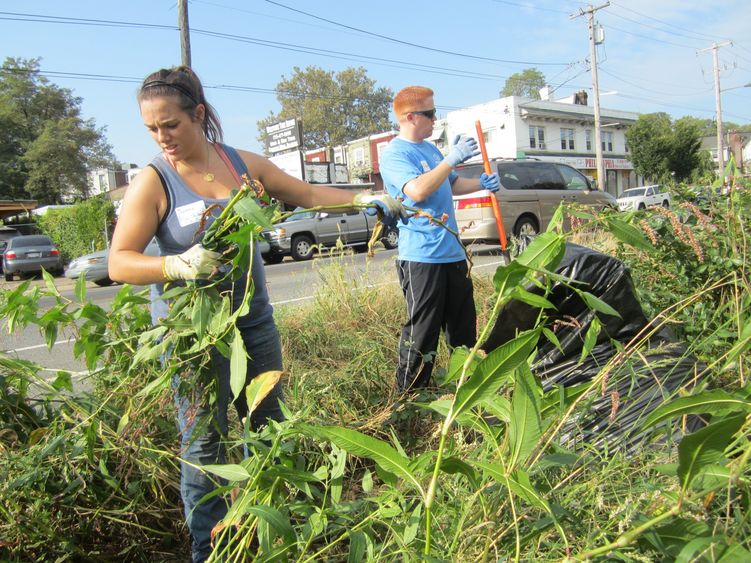 UNIVERSITY PARK, Pa. – A group of nearly 40 volunteers, including Penn State students and staff, spent a hot Saturday afternoon last semester revamping two green infrastructure sites in the heart of central Philadelphia.
The Water Blues, Green Solutions Stormwater Management Project was coordinated by Penn State Cooperative Extension, Penn State's College of Arts and Architecture and Penn State Public Media. The related documentary "Water Blues, Green Solutions" will air at 8 p.m. on Thursday, Feb. 13 on WPSU-TV.
Tommy McCann, urban agriculture coordinator and horticulture educator with Penn State Extension, led the students and volunteers in rebuilding a rain garden and a stormwater bump-out. Both sites were too overgrown to fulfill their original purposes.
"We put in a whole line of river rock so when water is traveling through that system, it has to go through all different barriers with that stone," said McCann. "We also want to work with the researchers at Penn State to look at silt collection so we can determine how much silt is coming into the system and how much silt will be exiting the system."
Current landscape architecture major Daniel Laimer was one of the students who participated in the project.
"The further you go in our program, the more you get of that hands-on experience. I've actually participated in numerous studios where we work together with the community, but I've never done any volunteer programs. I really wanted to come out and not be a part of a class but just do it on my own time," said Laimer.
The event was part of an outreach effort for Penn State Public Media's documentary "Water Blues, Green Solutions," which aims to encourage public education and awareness of green infrastructure.
"There's a lot of important, very practical research happening at Penn State. This event brought together researchers from Penn State who are working with community and government organizations in Philadelphia while giving hands-on experience to students," said Cheraine Stanford, producer of "Water Blues, Green Solutions."
Learn more about the documentary and Penn State's involvement in green infrastructure, and the documentary's air dates on public television stations across the country, at www.waterblues.org.