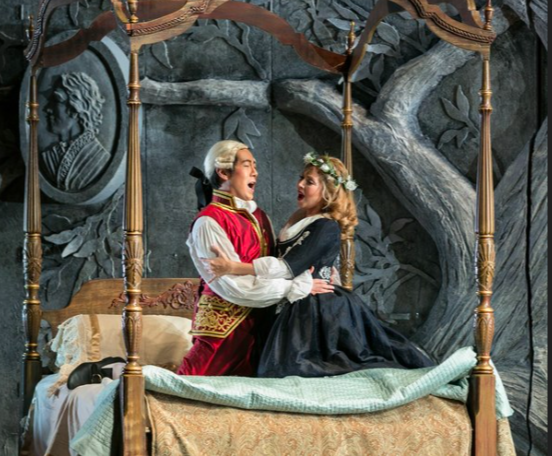 ABINGTON, Pa. Some music critics consider Mozart's "The Marriage of Figaro" to be the greatest opera ever written, and those attending Moylan Mills' opera film series on Sunday, April 23, will discover why.
Moylan Mills, professor emeritus of integrative arts at Penn State Abington, maintains that "Figaro" presents "some of the most gorgeous music Mozart ever composed, even farce, beautifully executed."
The program begins at 2:30 p.m., with a brief intermission for refreshments, in 112 Woodland Building. Admission is $15.
Filled with romance, comic intrigue, and soaring musical invention, "Figaro" was considered revolutionary — even seditious — when it was composed in 1786 just three years before France, which banned it, became embroiled in a revolution. With servants depicted as more intelligent and resourceful than their upper-class masters, the opera upset Austria's Emperor Joseph, who employed Mozart.
But for Mills, it's the musical genius of Mozart, the elaborate costumes and set and the engaging, interlocking storylines that keep "Figaro" at the forefront of artistic achievement.
"The final scene, when the proud count, finally revealing himself as a vulnerable human being, begs forgiveness of the countess, is a meltingly gorgeous scene that gives everyone goose bumps," he said.
Mills describes opera as "emotion onstage ... The characters are so compelled by emotion that they can't speak; they must sing."
"Opera is sometimes said to be the greatest of art forms," he said. "It's a magical amalgam of visual splendor, incorporating music, dance, acting, mise-en-scéne [stage setting] and elaborate costumes, usually performed in buildings that are among the world's greatest architectural wonders."
Twice a year since the series began in 1998, Mills presents an opera program a week or so before a major production of the piece in the area, enlightening his audience with excerpts from the opera and encouraging them to see it live. He discusses plotlines as well as key arias, scenes and structural developments. (Five performances of Figaro will be presented by Opera Philadelphia at the Academy of Music between April 28 and May 2.)
"The Marriage of Figaro" opera and lecture is part of the Afternoon with the Arts series presented by Abington Cultural and Community Events.
Penn State Abington, formerly the Ogontz campus, offers baccalaureate degrees in 18 majors at its suburban location just north of Philadelphia. Nearly half of our 4,000 students complete all four years at Abington, with opportunities in undergraduate research, the Schreyer honors program, NCAA Division III athletics, and more. The Lion's Gate residence hall will open in August 2017.