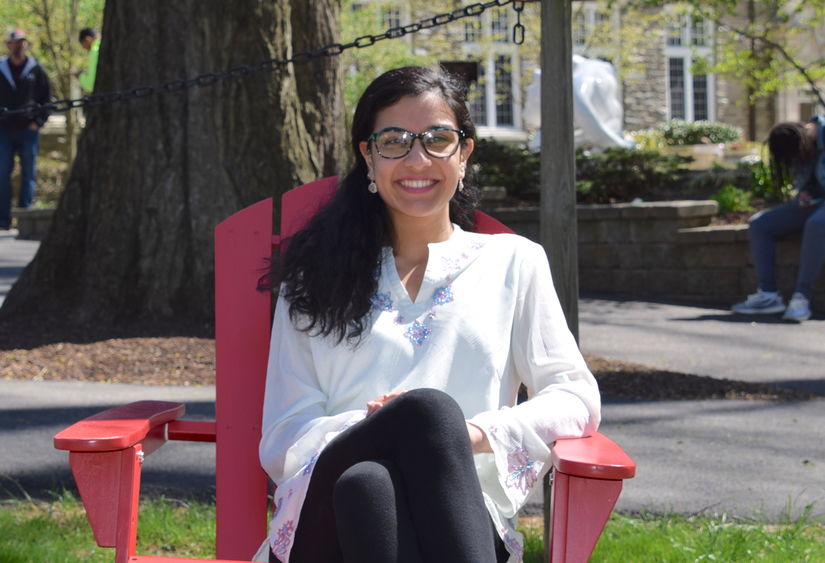 ABINGTON, Pa. — Sahiba Bansal is a woman in a hurry. She talks fast and moves faster, adding experiences to her burgeoning resume as a rising Penn State Abington junior.
On this day, Bansal is overjoyed. She survived a rigorous training process and was selected as a resident assistant at the Lions Gate student apartments for the 2019-2020 academic year.
"I wanted to go down this path, and I did it!" she said.
Bansal, a junior majoring in psychological and social sciences (PSS), explores many paths, which support her personal growth.
She is the tour director for the Abington Lion Ambassadors and serves on its executive board. She is a member of the Student Activity Fee Board and vice president of the South Asian Student Association. In the past, she spent the summer as an orientation leader.
Bansal, like many Abington students, also works more than one job. You will find her at the front desk and in the office at the Lions Gate residence hall as well as in the Advising Center, where she helps as a peer advisor.
"Working in the office was valuable because I didn't know office etiquette. And I learned how to sit for a long period. It tested my patience, though. It made me hone in on my strengths," said Bonsal.
Off campus, she works as a respite provider for a nonprofit that provides mental health and support services to children and their families.
Bansal is an academic explorer, too. As a research assistant, she coordinates studies within the PSS major.
"Faculty perform research or students will create studies for their courses, and we set up the studies for the participants," she said.
The Abington undergraduate research program (ACURA) led Bansal, under the supervision of two Abington faculty, to develop a study she ultimately presented at the Eastern Psychological Association (EPA) conference in New York City in March.
"I ran a correlations study regarding communicative abilities. I wanted to see if participants had high communicative abilities with their fathers, did it follow that they also have high communicative abilities with their romantic partners?" she said. "Surprisingly, the answer was no."
Aside from presenting at a professional conference, undergraduate research supported Bansal's relationships with faculty.
"I think people downgrade relationships with professors. I made great relationships with several professors through meeting with them even at office hours," she said. "After the EPA, I got to open up with two more faculty. I've asked them questions, and they guided me through it."
Bansal encourages students to follow her path and make the most of their time at Abington.
"Being my own true self helped me navigate Abington," she said. "When I came as a freshman, I introduced myself to the psychological and social sciences faculty, and I made the Lares Building front desk my 'home.'"
How does Bansal juggle work, classes and so many activities?
"A lot of napping. I'm still figuring out school. I'm working on learning how to balance everything. I write everything down. This year I've learned to take things day by day, and now I use coffee in a positive way. So it comes down to: coffee, napping, planning," she said.
Her personal strength and the support of the Penn State Abington community also help, she said.
"Penn State Abington has a really good diverse community and has opened me up to my own background. I just got involved with the South Asian Student Association," she said. "Since I arrived at Abington, every single year I think I've peaked in a different category in my life, whether academically or socially."
About Penn State Abington
Penn State Abington provides an affordable, accessible and high-impact education resulting in the success of a diverse student body. It is committed to student success through innovative approaches to 21st-century public higher education within a world-class research university. With nearly 4,000 students, Penn State Abington is a residential campus that offers baccalaureate degrees in 19 majors, undergraduate research, the Schreyer honors program, NCAA Division III athletics and more.