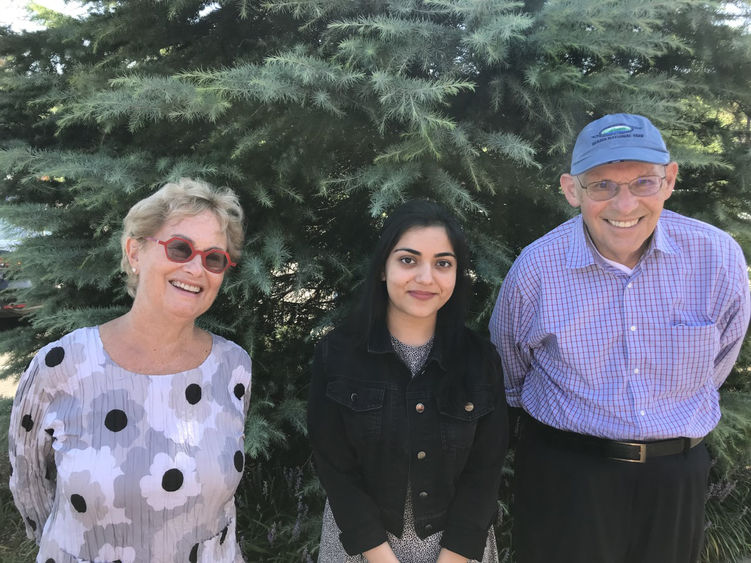 ABINGTON, Pa. — Fred Gorsen, Penn State class of 1964, will be the first to admit that his choice to attend Penn State Abington was a practical one. Raised in the Logan neighborhood of Philadelphia and a graduate of Central High School, the thought of being able to commute to school, and only pay for tuition, was an attractive one.
Fred spent two years at the Abington campus before finishing his degree at University Park. It wasn't until he returned to his alma mater years later with his late wife, Barbara, that he saw Abington through a new lens.
"Returning to campus years later with Barbara was like seeing it with new eyes," he said. "She opened my eyes to what a lovely, charming place it was to spend those years."
Looking back, Gorsen recognizes that moment as one that reconnected him to the place where he began his college journey, the same place where he would continue to honor Barbara's legacy after her passing in 2011.
Now, through the creation of the Barbara deFlorio Gorsen Scholarship, Gorsen is recognizing Barbara's accomplished career in systems analysis, cyber security, and risk assessment, as well as her passion for science, technology, engineering, and mathematics (STEM) with a scholarship that will further the dreams of a new generation of students.
Barbara, who graduated magna cum laude from Smith College with a degree in mathematics, went on to earn her master's degree, also in mathematics, from the University of Maryland. She wasn't just a leader in her field, according to Fred, she was a mentor and served as an inspiration to others, particularly, her younger female colleagues.
"Throughout her career, Barbara understood the importance of advancing others, especially women," he said. "That's the kind of person she was, and in that way, I think this scholarship is consistent with her personality."
Barbara's exemplary leadership, which was so evident in her work, continues to inspire today's students preparing to enter fields like science and technology, according to Matthew A. Fury, associate professor of mathematics and interim division head of science and engineering at Abington.
"This special scholarship will drive its recipients to successfully explore the beauty and significance of STEM disciplines within Abington's degree offerings," he said.
"Scholarship support from Fred Gorsen, and many other philanthropic partners, is critical for helping Penn State fulfill its land grant mission of ensuring access to a world-class college education."

—Penn State Abington Chancellor Margo DelliCarpini
In addition to the scholarship's personal significance for Gorsen, he also understands firsthand the financial hardship that pursuing an education can pose for today's students. In his final year at Penn State, Gorsen found himself without the funds to complete his studies. With the help of a loan from the Class of 1943 fund, he was able to make ends meet and graduate on time.
"That last little bit of money got me to the finish line," Fred said. "To think that this might play the same role for some student at Abington — that's a good feeling."
That good feeling, shared by Penn State alumni like Gorsen, continues to benefit deserving undergraduates and strengthens the University's unwavering commitment to the success of its students, according to Margo DelliCarpini, chancellor of Penn State Abington.  
"Scholarship support from Fred Gorsen, and many other philanthropic partners, is critical for helping Penn State fulfill its land grant mission of ensuring access to a world-class college education," she said.
This fall, Fred returned to campus once again, this time with his partner, Joan. Together, they had the opportunity to meet this year's scholarship recipient and honor Barbara's continued and lasting impact.
"I hadn't done anything major since Barbara's passing, almost 10 years ago, and that really didn't feel quite right," says Fred. "This scholarship feels like the perfect way to honor her and share who she was."
About "A Greater Penn State"
Gorsen's support will advance "A Greater Penn State for 21st Century Excellence," a focused campaign that seeks to elevate Penn State's position as a leading public university in a world defined by rapid change and global connections. With the support of alumni and friends, "A Greater Penn State" seeks to fulfill the three key imperatives of a 21st-century public university: keeping the doors to higher education open to hardworking students regardless of financial well-being; creating transformative experiences that go beyond the classroom; and impacting the world by serving communities and fueling discovery, innovation and entrepreneurship. To learn more about "A Greater Penn State for 21st Century Excellence," visit greaterpennstate.psu.edu.
About Penn State Abington
Penn State Abington provides an affordable, accessible and high-impact education resulting in the success of a diverse student body. It is committed to student success through innovative approaches to 21st-century public higher education within a world-class research university. With about 3,700 students, Penn State Abington is a residential campus that offers baccalaureate degrees in 23 majors, undergraduate research, the Schreyer honors program, NCAA Division III athletics and more.