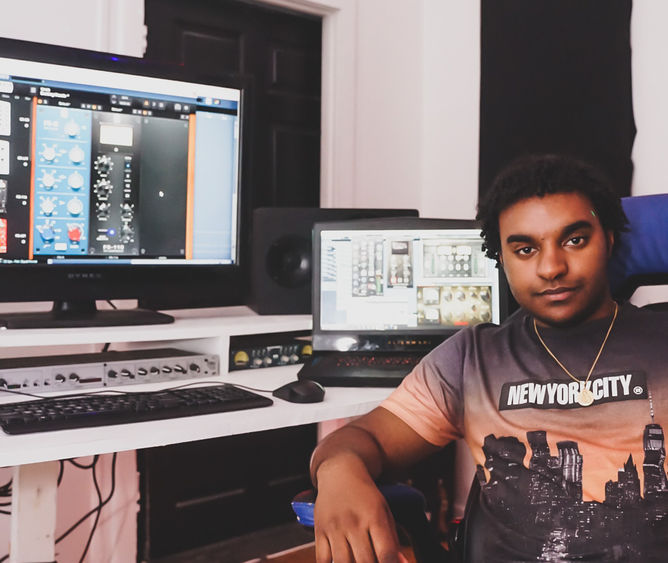 ABINGTON, Pa. — A recent graduate is using the entrepreneurial mindset he refined at Penn State Abington to invest in his Philadelphia neighborhood and work with at-risk youth who call the area home.  
Josh Ventura is the co-owner and managing partner of The Sound Gallery Studios, a recording studio, artist development agency, and event space in the Frankford section of the city.  
"My biggest goal is to make an impact on people in the community where I'm from. I want to be doing something for people that look like me," he said. 
The Sound Gallery had its beginnings when Ventura became acquainted with his partner, who owned a small studio in the city, when he was 18.  
"It was all bootstrap. It started off with me in a bedroom studio, and it snowballed. I met my partner, we had like-minded goals, and so instead of working individually, we decided to scale the impact we can make," Ventura, who earned a business degree last fall, said. 
"One of our biggest obstacles was scaling the number of clients we had. Through strategic efforts, we increased business by over 200 percent since we opened the current facility in March 2021," he said. 
They also operate a studio in Florida and plan to open in Atlanta and New York City. 
Ventura, who started out playing the drums and guitar, worked as a DJ as well as recording, engineering, and producing music as a teenager. Word spread in his school that he was "the music kid" so other students would come to his home studio and record. 
"I began engineering at my grandmother's house. At 16, I started making my own music through trial and error. I like learning and trying different things. I taught myself producing and learned in about a year." he said. 
In addition to his full-time gig working with musicians and other creatives, Ventura makes time for at-risk youth. The Record Your Dreams summer program brings small groups of kids between the ages of 6 and 16 into the studio so they can create.  
"We teach them to engineer, write songs, produce, and make beats. It's an escape from their environment. I see firsthand the impact this studio is having on the communities we serve. These kids are broken, and they need to have a voice. Creating is a way to make their voice heard," he said. 
Music continues to be an integral part of Ventura's life. 
"I learned early on that music is powerful and listening can change your mood, your feelings can shift, it can give you a new perspective. I saw it in my family as a kid at church when I would listen to the music," he said. 
Entrepreneurship is embedded in Ventura's DNA. His father has owned and operated a series of businesses including a grocery store, mechanic shop, and one that facilitates auto services such as state drivers' registrations. 
"My dad had me working alongside him. What I've learned most from him is that if you want something, you have to work hard for it. I'm walking this path on my own, but the values that my parents instilled in me are helping me along the path," Ventura said. 
At Abington, Ventura's entrepreneurial inclinations were nurtured by opportunities inside and outside the classroom including joining the Entrepreneurial Student Association. 
"My education at Abington helped me learn to effectively problem-solve through systematic ways of thinking and processes and frameworks that were incorporated into my business courses. If you really want to learn something, you're going to have to take time to develop your knowledge. It takes more than one course, you build, and it all stacks up," he said. 
One of Ventura's instructors and mentors at Abington was Peter Hornberger, lecturer in entrepreneurship and management who also serves as director of the campus LaunchBox. The LaunchBox, an initiative of Invent Penn State, is a hub that connects local entrepreneurs with the support, resources, and facilities they need to build sustainable, scalable businesses with viable plans for growth.  
"I enrolled in Peter's entrepreneurship-focused classes, and we developed a robust relationship after that. Peter and I would have conversations and pick each other's brains. We learned from each other," Ventura, who has presented at LaunchBox events, said. 
He participated in a business case competition while he was at Abington, an experience that he highly recommends to other students. 
"It's a way to learn to problem-solve in a way you can't learn in the classroom. We helped a real company by developing solutions for a business issue," he said. 
Ventura was the first in his family to graduate from college, which presents unique challenges. 
"As a first-generation student, you don't have the support you have if the prior generation went to college. I am walking a path that hasn't been walked down in my family. My parents are immigrants from the Dominican Republic looking for a better life," he said. 
Ventura is excited as he plans for the future in business and as a citizen committed to supporting others. 
"Being an entrepreneur has always been part of my life. It is a way to scale change. If you see a problem, business is a mechanism, and you can change society through business," he said. 
About Penn State Abington 
Penn State Abington provides an affordable, accessible and high-impact education resulting in the success of a diverse student body. It is committed to student success through innovative approaches to 21st-century public higher education within a world-class research university. With about 3,700 students, Penn State Abington is a residential campus that offers baccalaureate degrees in 23 majors, undergraduate research, the Schreyer honors program, NCAA Division III athletics and more.