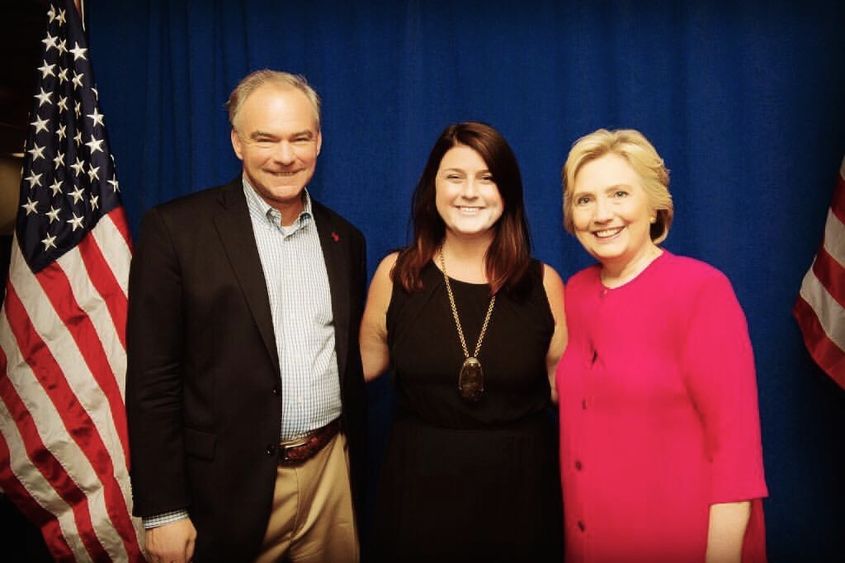 ABINGTON, Pa. — Jacklin Rhoads graduated from Penn State Abington in 2008 with a pretty stellar resume: Student Government Association president, orientation leader, research assistant, senior class president, and recipient of a prestigious award for Commonwealth Campus students.
And the English major hasn't slowed down since she hit the real world. Rhoads spent five years in progressively responsible positions at two Philadelphia public relations agencies. In 2015, she was hired to be press secretary for U.S. Sen. Bob Casey Jr. of Pennsylvania.
Question: You are the press secretary for a United States senator — a high-level and high pressure job. Share a typical day.
Rhoads: Truly, no days are typical here in Washington.
My day usually begins with an early morning meeting with Senator Casey and our communications team to go through the prominent news stories of the day, prep him for media interactions and interviews, and channel our social media strategy. I shuffle from staying on top of his media inquiries, including last-minute cable news interviews and long-lead story ideas, to disseminating news from our office to local, regional, and national outlets — all while monitoring breaking news from around the globe.
My day concludes with filing briefings for the Senator's next interviews and press conferences, or I hit the road, traveling to Pennsylvania to staff the Senator's in-state press events.
Question: How did your experience at Penn State Abington help you build your career?
Rhoads: At Abington, learning didn't stop at the doorway of the classroom. My involvement in student government still helps me every day as I navigate the political world in Washington and across Pennsylvania.
My English professors helped refine my writing skills, a skill set that is crucial to my career. I still draw on their expertise for making my work products concise and clear. It also turned me into a master proofreader.
"At Abington, learning didn't stop at the doorway of the classroom."

—Jacklin Rhoads, Class of 2008
Question: How have your college mentors impacted your life?
Rhoads: My career has flourished because of amazing mentors like Gina Kaufman (director of Student Affairs at Abington). As my student government advisor and informal (and underpaid) life coach, Gina guided me through the turbulent years of being a college student — learning who I was and what I wanted to do. Her mentorship didn't stop at graduation, and she is still one of my closest friends and confidants. She's been a guiding force for me through every career change, contract negotiation, and personal roadblock. Without her support and visionary guidance, I wouldn't be the woman or professional I am today.
I'd be remiss to not also note some of my infinitely wise professors like Dr. Karen Weekes (English) and Dr. Ross Brinkert (Corporate Communication) who instilled my work ethic and academic drive.
Question: Your experience at Penn State Abington included a semester studying abroad in Prague. How was it valuable?
Rhoads: It was an unforgettable experience. Few other opportunities give you the time and freedom to explore new cultures, experience new things, and meet such amazing people over 16 weeks. My trips to 21 cities in 10 countries contoured my international perspective, which is useful in the global work I do for the Senator.
The friends I was able to make while exploring abroad are still some of my closest, serving as a support system when I was homesick and as spirited companions in life's adventures. I still travel around the United States to see them and celebrate our accomplishments post-Prague. Over pivos in Prague, baguettes in Paris, and gelato in Florence, we shaped relationships no other experience would have allowed for – they are forever my kamaraskas (friends).
++++++++++++++++++++++++++++++++++++++++++++++++++++++++++++
Penn State Abington, formerly the Ogontz campus, offers baccalaureate degrees in 19 majors at its suburban location just north of Philadelphia. Nearly half of our 4,000 students complete all four years at Abington, with opportunities in undergraduate research, the Schreyer honors program, NCAA Division III athletics, and more. Students can start the first two years of more than 160 Penn State majors at Abington and complete their degrees at University Park or another campus. Lions Gate, our first residence hall, opened in August 2017.