Phone case keeps cords unknotted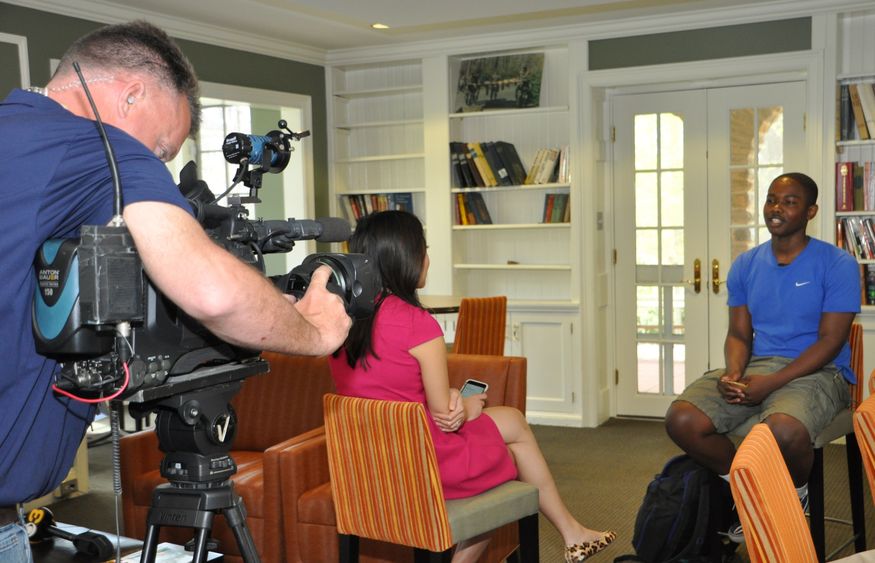 A Penn State Abington entrepreneur's solution to one of life's knottiest problems, tangled earbuds, took him to the White House this month where he shared Rap-It-Up with the president and connected with other young inventors.
Shemar Coombs used computer aided design software and a 3D-printer to develop a prototype phone case. The earbuds wrap around an integrated u-shaped channel on the case's perimeter so they don't tangle. He chose a pliable and durable material known as NinjaFlex for his product, which also protects the phone.
Shemar and about 100 other young innovators sprinkled their displays in and around the mansion for the annual White House Science Fair. He explained the purpose of Rap-It-Up to President Obama although the excitement made his memory a little fuzzy, he told a reporter from CBS Philly during a recent interview.
"He has really firm handshake, and I decided I wasn't washing or using that hand the rest of the day," he laughed, "so I Snapchatted with one hand."
Shemar said it was valuable to exchange ideas and check out other inventions at the invitation-only two-day event. It also amped up his motivation.
"I believe if you aren't feeling inspired, you should go out and try to inspire someone else," the Philadelphia resident said. "And then that feeling will come back around to you."
Product development intrigued Shemar, and several entrepreneurial courses supported by the Network For Teaching Entrepreneurship while in high school encouraged him. An assignment last spring to produce something that could change the world led to the conception of Rap-It-Up.

"I wanted to listen to music while we were brainstorming, but my earbud cords were tangled," Shemar said. "That's where Rap-It-Up came from."
It's transformation -- from an idea, to video pitch, to development -- took root at a citywide competition.
"There were cameras, investors, CEOs, and a genuine interest at the competition. I thought, this is a real possibility," he said. "From then on, I began working to turn Rap-It-Up into a success."
Shemar proceeded methodically, finishing among the top award winners at regional and national competitions. He needed a prototype and maker space NextFab in South Philadelphia sponsored the project. And then came the call from The White House.
Developing Rap-It-Up keeps Shemar on a strict schedule: A two-hour bus ride from his Southwest Philadelphia home to classes at Abington, and the trip home includes a detour to NextFab. He doesn't have much time at the maker space before it closes, but the staff helps him maximize his time.
What's next for Rap-It-Up? Shemar plans to present it at as many competitions as possible and raise money for production. His goal is to walk into a Five Below store and see it on sale. 
"I want to take this product as far as I can," he said. 
Abington at the White House
Shemar Coombs is the third member of the Abington campus community to earn a coveted invitation to the White House recently. Abington faculty Alexia Hudson-Ward attended the first Tweetup Town Hall meeting and John Majewicz marked LGBT Pride Month.