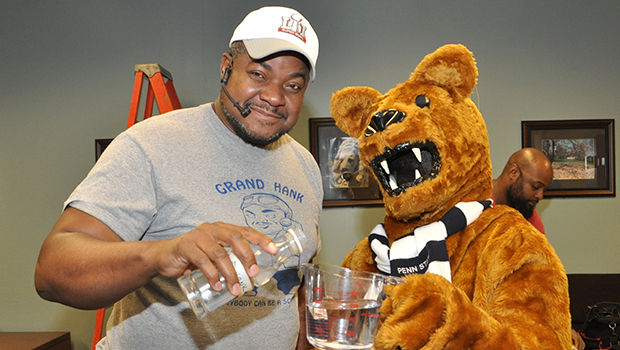 It was a science lesson the fourth-graders won't soon forget. There was a DJ who dropped music while Grand Hank the chemistry guru ran some colorful and explosive experiments. The result? Hands down one of the most engaging science lessons of their young lives.
This Grand science experiment was managed by Penn State Abington education faculty and students. It brought children from economically disadvantaged elementary schools in the region to the college for a lesson by a nationally known figure in science education, Grand Hank.
Grand Hank talked to the fourth-graders about more than beakers and gases, though. He talked about his rocky start in college but perseverance and caring faculty helped him earn his degree and later a research scientist position at Johnson & Johnson.
Finally, he delivered powerful hands-on science lessons with help from the fourth-graders. The experiments included a controlled combustion reaction, drawing "blood" from a student's palm, vacuum packing a child, and capturing gas from dry ice to form a bubble.
His work with the fourth-graders taught the Abington education majors and fourth-grade teachers how to teach science with impact. He engaged the students using common, inexpensive supplies and peaked the interest of even the hard-to-interest students with his enthusiasm.
At the end of the day, the fourth-graders benefited from the STEM lesson and early exposure to a college campus, and the Abington education majors learned techniques to engage students in science content.
Community partnerships = mutual benefits
Abington students said their takeaway from the morning with Grand Hank was the engagement with the fourth-grade teachers and children, who hail from the college's community partnership schools.
The partnership schools, located in struggling socioeconomic areas, work closely with Abington faculty and students. It's a mutually beneficial relationship.
Several times a year, they collaborate in several ways:
The Abington students donate time and talent, spending time at the elementary schools observing and teaching mini-lessons.
The children come to the Abington to learn about science from Grand Hank, about writing from popular children's authors, and Abington students teach more mini-lessons. Equally important, the children are exposed to a college campus — likely a first for many.
Abington faculty host professional development with experts in literacy, diversity, and other specialties for the education majors and invite teachers from the partnership schools to the trainings, too.
At the end of the day with Grand Hank, the fourth-graders returned to their schools (John Hancock in Norristown, Samuel Faust in Bensalem, and Philadelphia's Alexander McClure and Anne Frank) with a new enthusiasm for science. And the Abington education majors will forever teach science with Grand Hank's booming voice inspiring them.
+++++++++++++++++++++++++++++++++++++++++++++++++++++++
Penn State Abington, formerly the Ogontz campus, offers baccalaureate degrees in 18 majors at its suburban location just north of Philadelphia. Nearly half of our 4,000 students complete all four years at Abington, with opportunities in undergraduate research, the Schreyer honors program, NCAA Division III athletics, and more. Students can start the first two years of more than 160 Penn State majors at Abington and complete their degrees at University Park or another campus. Lions Gate, our first residence hall, will open this August.