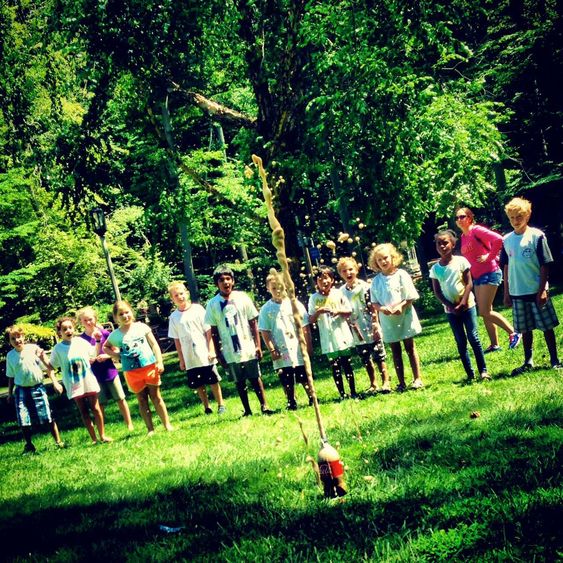 Mark Klinchin, a self-described "nerdy boy who likes science and explosions and stuff," and his family discovered a solution to a perennial summer dilemma: balancing good times with stemming potential summer learning loss -- the documented erosion of academic skills. Mark finds Penn State Abington Kids & Teen College keeps him happy and on track.
"Kids & Teen College is a blast," Mark said. "A lot is learned in just one week in incredibly high detail and applied in a playful manner."
Mark attends multiple camps -- one summer he signed on for all seven weeks -- but multimedia design remains a favorite.
"We learned how to use every tool and feature of the graphics editing program Gimp in one week. What makes it exciting is that we did these things immediately," he said. "We created dozens of edited images and used hardcore programming to plop them into a real website, one click away from being on the Internet."
The meteorology camp enthralled Mark because he learned the concepts, applied them and then accurately predicted the weather for the coming days.
According to Deanna Bosley, who oversees Abington Kids & Teen College, the camps are developed with multiple goals: exploring new interests, building on existing skills, gaining self-confidence, developing social skills and making friends. Mark Klinchin said that balance at Kids & Teen College makes it "a perfect and pleasurable experience."
"We have lunch and recess for nothing but food, social interaction and pure enjoyment of summer," he said. "If you like to learn, you will. If you want to have fun, you will. And if you're like many people and want both, Kids & Teen College is simply perfection."
Abington Kids & Teen College emphasizes topics in the national STEAM (science, technology, engineering, arts, and math) initiative. Camps for third through 12th graders begin June 29 and through the week of Aug. 10.
Check out the complete schedule and register at http://www.abington.psu.edu/summer-camps.