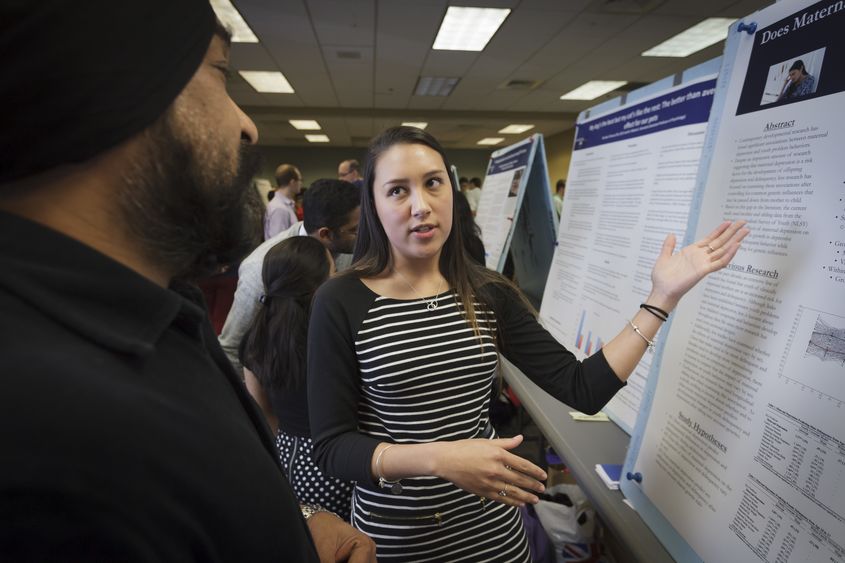 ABINGTON, Pa. -- A research collaboration between a first-year Penn State Abington student and a faculty mentor yielded intriguing findings in the link between maternal depression and problem behaviors in teens. Their study claimed one of the top prizes at the Abington College Undergraduate Research Activities (ACURA) annual poster fair on April 14.
Extensive lines of research show transmission of antisocial behavior and depression within generations of families and also suggest that the causes of depression are evenly split between genetic and environmental. A person with a parent or full sibling with major depressive disorder is two to three times more likely to develop depression than an individual with no family history.
Arianna Adrian, a psychology major, and faculty mentor Eric J. Connolly said they wanted to control for genetic effects since not doing so leads to research that explains only about 50 percent of the depression puzzle.
Connolly walked Adrian through a modeling strategy known as the sibling-comparison approach, and they agreed that it would offer the best test for their hypothesis. 
"This approach enabled us to examine the impact of maternal depression on child behavior while controlling for genetic influences and exploring whether the depression operates as an important environmental influence on child problems," Adrian said.
Connolly and Adrian said two key findings emerged from the study. First, the results suggest that early life exposure to high levels of maternal depression leads to an increased risk for females to develop symptoms of depression over and above the influence of shared genetic and common environmental influences.
"This underscores the importance of examining nonshared environments, which are different experiences between children from the same family that may lead one to develop symptoms of depression and the other to not," said Connolly, assistant professor of criminal justice.
Examples of nonshared environments that have been tied to depression and anxiety in youth are differential exposure to bullying victimization, parental divorce, and parent-child relationships.
The second result involves the relationship between genetic and environmental  factors.
"We interpret our findings as perhaps evidence for gene-environment interaction whereby differences in susceptibility to maternal depression early in life among female siblings may explain differences in the development of depression later in life," Connolly said.
"The results highlight the importance of using sibling-comparison methods or other genetically informative methods to control for genetic confounding," he continued.
The duo hasn't discussed future collaborations yet, but they are likely to explore what types of nonshared environments mediate the association between maternal depression and depression in female offspring.
"Is it low levels of maternal warmth that are important for early childhood development?" Connolly said. "Or is it something outside of the household such as an early life victimization experience or repeated bullying?"
Adrian first felt the draw of research as a high school senior when she attended the Abington undergraduate poster fair.
"I remember being blown away that this level of research was conducted by undergraduates," the psychological and social sciences major said. 
Intrigued by adolescent development, Adrian enrolled in Connolly's juvenile delinquency course her first semester and learned he was scouting for a research assistant. Connolly, whose specialty is biosocial criminology, said Adrian's curiosity to learn more about teen behavior was apparent.
"Arianna seemed really interested in going through the process and figuring out how to assess certain questions using the most rigorous research methodologies," he said.
Adrian said despite her enthusiasm she initially was apprehensive about participating.
"I had never been involved in research before, but Dr. Connolly was willing to take on a freshman who had no prior exposure," she said. "I learned the value of stepping outside of your comfort zone academically." 
The Adrian/Connolly project, "Does Maternal Depression Cause Adolescent Problem Behaviors?: A Longitudinal Evaluation," earned a first prize in the Division of Social Sciences at the poster fair. Learn more about undergraduate research at Abington: http://www.abington.psu.edu/ACURA