Tragedy inspires Abington graduate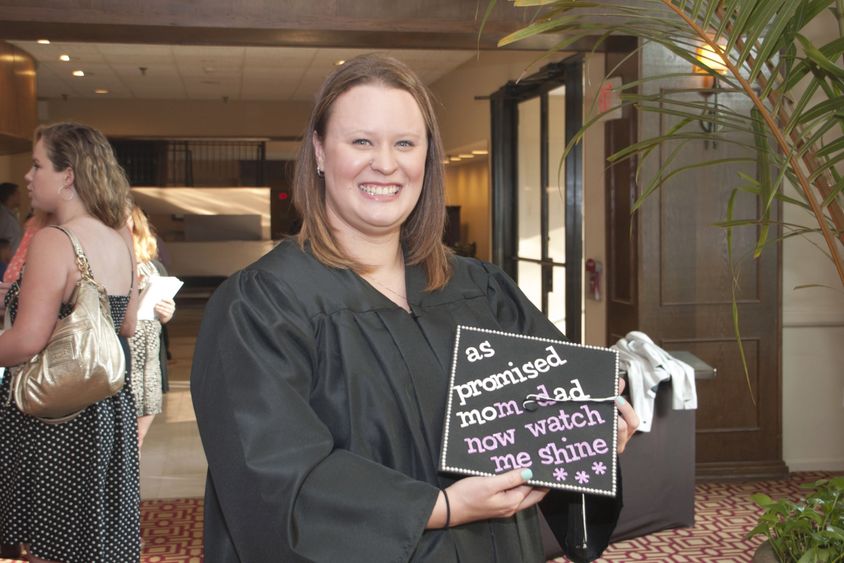 Before Patricia Pata dressed for graduation, she taped several old family photos inside of her cap. Then she flipped it over and carefully glued the words, 'As promised mom and dad, now watch me shine' around the tassel.
Sadly, Patti's parents were there only in spirit as she fulfilled a promise she made to them before they died six years ago: She earned her registered nurse diploma and then completed the RN to BS degree at Penn State Abington.
"I am who I am today because of my mom and dad," she said. "My mom is the biggest reason I went into nursing and my dad, too. After my mom died, I took care of him."
Growing up, their family was close: parents Eileen and Steve, Patti, and her brother. She lived at home after high school, working as an aide at a personal-care facility while completing prerequisites for nursing school.
But by the time Patti reached her early 20s, her dad struggled with diabetes, and her mom needed a liver transplant. Despite the hardship, the nurses who cared for Eileen reinforced Patti's goal.
"I saw some amazing nurses who I wanted to emulate," she said. "I want people to be cared for the way I would want my family to be treated."
Since Patti's brother was deployed in Iraq, she and her dad -- still managing his own health issues -- worked opposite shifts so someone was always home caring for Eileen. It was tiring and stressful, but they were in it together.
Eileen's new liver began to fail and her kidneys soon followed. Patti offered to donate a piece of her own liver, but her mom was too fragile to endure more surgery. During one of their talks during Eileen's final months, Patti told her: "I promise you, I will finish nursing school and sign my name Patricia Pata, RN, BSN."
They cared for Eileen as long as possible at home, but eventually she was admitted to hospice at Aria Frankford Hospital in Philadelphia. Her dad was in intensive care there after surgery, and Patti and her husband, Derek, kept vigil.
"I went home for a nap, and my mom passed away," Patti recalled. "Not only did I lose my best friend, but I also wasn't there holding her hand and comforting her."
Six months later, Steve died in his sleep, and the following month Patti lost her grandfather.
Patti Pata buried both of her parents by the time she was 25 years old.
"Heartbroken does not begin to explain my emotions, I felt like I was walking through a dream," she said. "I had to arrange the funeral and then clear out and sell their home. I hadn't even bought a house for myself yet."
"I fell into depression. I never gave up although I came close a couple times," Patti remembered. "I often thought what was the point of continuing without my parents."
"A day and a half after surgery, I went back to school. I was determined to not let anything stand in the way of the promise I made to my mom and myself."

Patti Pata, RN, BSN
Patti's husband, brother, and extended family encouraged her to resume her education. Patti finally enrolled in Aria Health School of Nursing in 2011. Even her dog helped out.
"Bailey Rose stayed up with me at night studying," she said. "She would try to close my books when it got to be too late. "
During the last year of nursing school, her mother-in law-died suddenly, and Patti had gallbladder surgery. This time, nothing would slow her down.
"A day and a half after my surgery, I went back to school," she said. "I was determined to not let anything stand in the way of the promise I made to my mom and myself."
Almost six years to the day after her mom died, Patti earned her registered nurse diploma from Aria, and in December she completed the RN to BS degree in nursing at Abington.
"Everyone at Aria and Penn State was so very caring when it came to understanding my background," she said.
Patti clearly remembers her thoughts as she walked across the stage at graduation: "I kept saying, 'If you fall behind, run faster. Never give up, never surrender, rise up against the odds.' "
Today, she works with medically fragile children through PSA Pediatric Home Health Care. Her next goal is to become a neonatal intensive care nurse.
"I enjoy caring for the kids, and they brighten my day. They are dealing with more than any child should," she said. "All the heartache in my life has only made me a more compassionate and caring nurse."
And now mom and dad, as promised, she signs her name Patricia Pata, RN, BSN.