Honoring sacrifice, contemplating future at Abington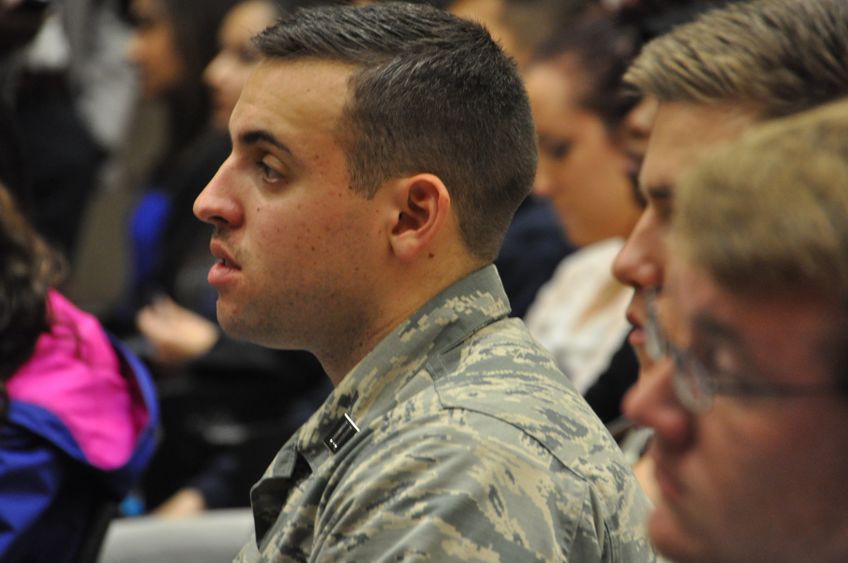 The emotional images of a soldier's homecoming draw tears, grins, and spawn websites: A parent for the first time holding the baby born during deployment, a dog leaping into its owner's arms, covering him with sloppy kisses. Coming home is the goal, but the transition to civilian life poses greater challenges for today's veterans than for those from previous generations.
"Our student veterans have sacrificed as much if not more of their lives than virtually any other generation in American history," P.J. Capelotti, professor of anthropology and senior adviser to the Penn State Abington Student Veterans Organization (SVO), said. "Because we have an all-volunteer military force, the deployments last longer, and there are more of them."
This Veterans Day, the SVO chose to honor the sacrifices of soldiers and their families by telling the story of the challenges they face returning to day-to-day life.
"The new Greatest Generation are our student vets who have done so much to secure liberty in the 21st century," said Capelotti, a Coast Guard veteran.. "We owe them everything we can do to help their transition from the intensive stress of deployment to the oftentimes equally stressful educational environment with bill payments and course registration."
The stress of course registration dropped a few notches recently thanks to an Abington initiative that became a state law. A mandate requiring priority registration for veterans kicked in at Abington, was adopted by Penn State, and in May it became law for Pennsylvania state colleges and universities.
"The new Greatest Generation are our student veterans who have done so much to secure liberty in the 21st century."
-- P.J. Capelotti, professor of anthropology, adviser to Abington Student Veterans Organization
The Veterans Day program, attended by about 200 people, featured a discussion among veterans and their advocates from Abington, government, and the media. The panelists included veterans from Abington student and faculty populations as well as staff member Carol DeBunda whose husband's death in combat left her to raise two small children.
Award-winning photojournalist David Swanson offered an alternate and compelling perspective. After returning safely from covering wars in Bosnia and Afghanistan, he was wounded in Iraq while embedded with a Marine unit.
State Rep. Thomas Murt said even though his employer, Penn State, allowed him to decompress after his deployment, leaving home on very short notice for months is stressful for soldiers.
"You put up your arm and willingly take the military oath, but it still doesn't make leaving any easier," Murt, a key ally in passing the priority registration bill, said.
Murt, who serves on the House veterans panel, urged the Abington community to continue to lend a hand to veterans, especially those dealing with mental health issues.
"One homeless vet one is one too many. There are hundreds on the streets of Philadelphia," he said. "We need to do a better job caring for vets."
James Ulinski, a Vietnam vet and lecturer in human development and family studies, said after the discussion, "Only by addressing these issues can we help resolve them. Education is often a great way to make bad situations better. Bad things happen when good people do nothing."
The campus also hosted a separate program last week about posttraumatic stress disorder (PTSD), which tied into Abington Common Read, A Long Way Gone. The book was written by onetime child soldier Ishmael Beah about the psychological trauma of war.
Abington has an active and growing population of student veterans and recently earned the Military Friendly Schools designation for the third year.
To learn more about veterans programs at Abington, go to http://www.abington.psu.edu/admissions/adultveteran-students
To read the story of how faculty aided veterans statewide with the new priority registration law, go to
http://news.psu.edu/story/317601/2014/06/05/academics/abington-initiati…