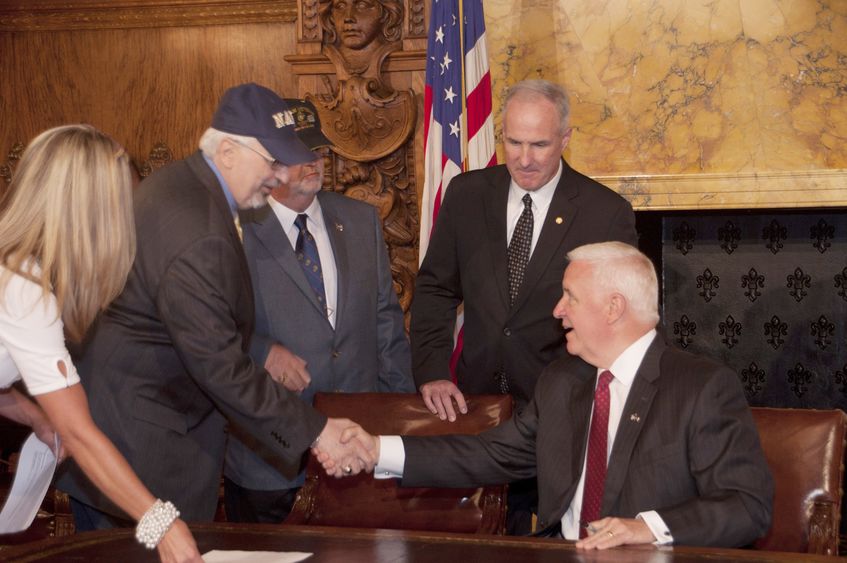 It's a great year for veterans at Penn State Abington. A charge that began at Abington to mandate priority registration for vets kicked in throughout the University. And then in May, Pennsylvania Gov. Tom Corbett signed a law requiring priority registration for vets at state colleges and universities with the Abington faculty who led the effort at his side.
Now for the third consecutive year, Abington earned the Military Friendly Schools designation. It recognizes the top 20 percent of institutions nationwide with a communities that embrace active duty service members, veterans, and spouses as students and supports their success. The complete criteria is available at www.militaryfriendlyschools.com
Abington's active and growing population of student veterans drives a wide range of initiatives. The chapter of the Student Veterans Club of America organizes the annual Veterans Day observance. The discussion this year features veteran and state Rep. Thomas Murt and David Swanson, a Pulitzer Prize winner who documented conflicts in Iraq and Afghanistan. A separate program focuses on post-traumatic stress disorder.
Abington also partners with the nonprofit Workforce Opportunities Services for an innovative and intensive work-study program. Upon completion, each veteran receives an academic certificate from Abington and has the opportunity to work at the sponsoring company. To learn more.
To read more about Abington student veterans.