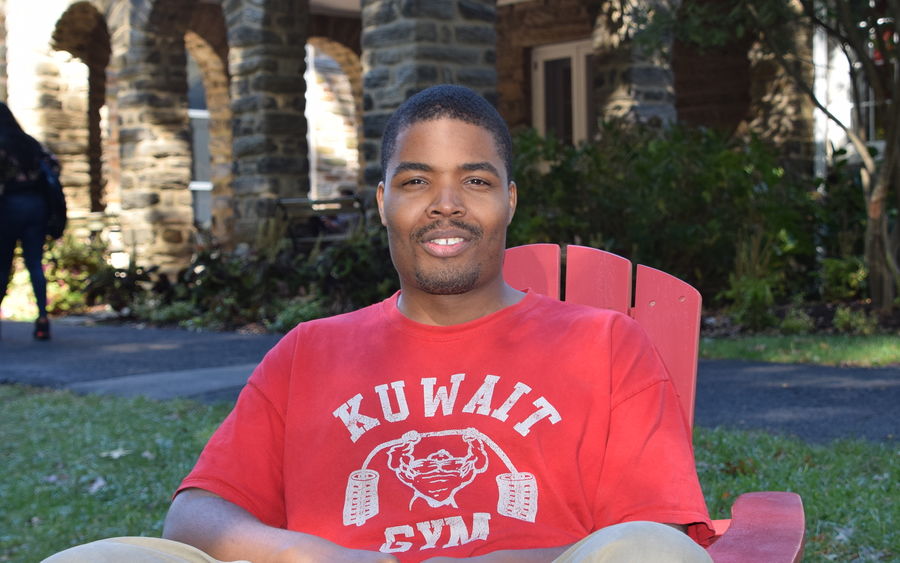 ABINGTON, Pa. — Ty Bullock mastered reconnaissance during 11 years as a scout in the Army National Guard. He and his colleagues would deploy in small teams to investigate areas in places like Kuwait and then develop maps so their superiors could decide whether they should proceed into certain terrain or not.
Now, as a student at Penn State Abington, he uses these skills to plot out his own future and work toward supporting other veterans on campus.
Several years ago, Bullock made the decision to complete his education after leaving high school in the 11th grade to join the military.
"I went to community college and worked full time. Then I began to search for a four-year college that would support me the best," he said. "Penn State Abington offered more as far as what I really want to do. It was more relevant."
"I want student-veterans to reach out to me. No other support is better than a battle buddy. They always have your back in the darkest and brightest moments."

— Ty Bullock, Penn State Abington student
He transferred to Abington last year to complete his degree in psychological and social sciences. And he immediately put his military experience to work.
"When I showed up at Abington, I did what all scouts do: I scouted the location. I walked the campus taking different routes to acclimate myself to the environment," he said. "A misadventure led me to find the military lounge and then I found out about the Abington Student-Veterans Organization."
That misadventure also led to his friendship with P.J. Capelotti, professor of anthropology, Coast Guard veteran, and adviser to the Student-Veterans Organization.
"Ty Bullock and student-veterans like him are absolutely indispensable to the life of the college. They have served in some of the toughest assignments and places on the planet, and therefore bring a global operational perspective to everything they experience at Abington," Capelotti said.
"They are, as a rule, tough, no-nonsense, impatient operators who seek and expect tangible results from their educations. They contribute to discussions in classes with a probity and world-wisdom derived from actual experiences," he continued. "That is why the Student-Veterans Organization has tried, by pioneering early course registration and the formation of the Student-Veterans Lounge, to contribute to the excellent veterans services already offered at Penn State."
Bullock is now president of the Student-Veterans Organization.
"I want student-veterans who are here to reach out to me," he said. "No other support is better than a battle buddy. They always have your back in the darkest and brightest moments."
Resources for veterans at Penn State Abington
Penn State Abington and the University boast a wide range of initiatives and programming aimed at providing veterans with the skills for success, including:
Abington is approved by the Department of Veterans Affairs.
Penn State recognizes those who have honorably served or are currently serving in the armed forces by awarding them priority registration, which allows them to schedule classes ahead of the general student population.
A mentoring program for new student-veterans is comprised of current student veterans or faculty/staff members who help veterans acclimate to academic life, network and get connected to campus resources.
To access these resources or to learn more, contact Elizabeth Piccolo, the Veterans Administration certifying official at the Abington campus, at 215-881-7958 or [email protected].
About Penn State Abington
Penn State Abington provides an affordable, accessible and high-impact education resulting in the success of a diverse student body. It is committed to student success through innovative approaches to 21st century public higher education within a world-class research university. With about 3,700 students, Penn State Abington is a residential campus that offers baccalaureate degrees in 21 majors, undergraduate research, the Schreyer honors program, NCAA Division III athletics and more.