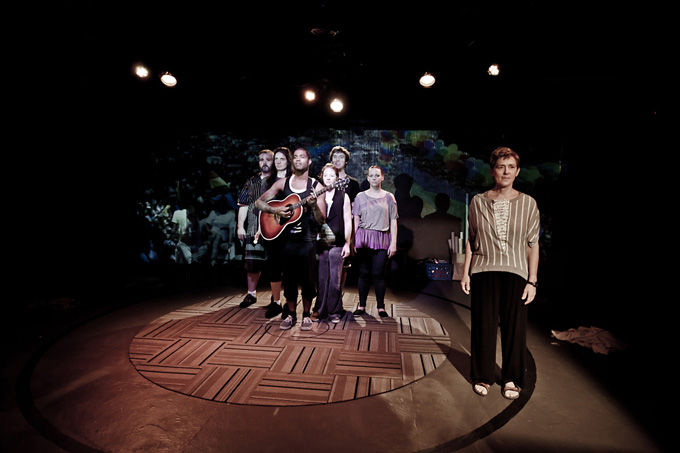 A collective, silent exhale seemed to fill the Penn State Abington auditorium at the conclusion of "The Luckiest Kid," a play about the violation of boundaries between a teacher and her student.
"The tension and sadness in the room was palpable," according to Yvonne Love, assistant professor of art at Abington. "This production was particularly significant in light of contemporary cases of child sexual abuse and violation of student/teacher trust."
"I wanted the play to initiate conversations about healthy boundaries between adults and young people."

-- Martha Kemper, associate professor of theater at Penn State Abington
And as had been envisioned by "Luckiest Kid" playwright Martha Kemper, the discussion flowed freely in the aftermath of the performance.
"I wanted the play to initiate conversations about healthy boundaries between adults and young people," Kemper, associate professor of theater at Abington, said. 

Kemper also portrayed the protagonist, a high school student struggling with family problems who sleeps with the drama teacher she idolizes.
"Martha, the director, and the audience talked at length about the teacher-student relationship as well as the incredible process of developing this theater piece," Love said. "The universal characters, the simplicity of the set as well as the intensity of the character development made an impression."
The original play is a product of University support for Kemper's sabbatical, and the performance is another example of Abington's commitment to social change through connections forged by the arts.The decision to stage the play and the actual performance occurred in less than a month due to the efforts of Kemper, Love, Chancellor Karen Wiley Sandler, the Academic Environment Committee, and numerous faculty and staff.
After the performance, the audience continued the conversation at a reception that included representatives from Mission Kids. The nonprofit Mission Kids coordinates law enforcement and child welfare efforts in alleged abuse cases.
Abington also hosted speaker Elaine Pasqua, who discussed alcohol and sexual assault on college students. Her appearance earlier this year was supported by the Student Activity Fee.
Although April is Sexual Assault Awareness Month and Child Abuse Prevention Month, Abington stages select events throughout the year to reinforce its commitment to raising awareness and providing education about violence, abuse and bigotry directed at all members of society.