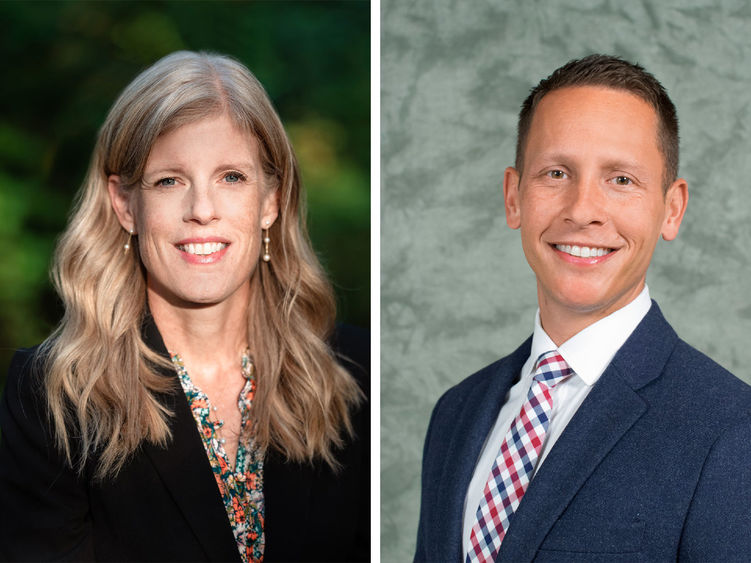 ABINGTON, Pa. — Their personal and professional lives have placed Glenn Sterner and Erin Gallagher at the forefront of battling the stigma surrounding mental illness, substance use, addiction and vulnerable populations. The duo is the driving force behind the Oct. 12 performance of This Is My Brave-The Show at Penn State Abington, which features original performances by community members who have suffered from the impact of stigma. 
Sterner, assistant professor of criminal justice at Abington, and Gallagher, the executive director of This Is My Brave Inc., recently sat down to share their motivations and advice for managing stigma and how live performances are an effective way to jump start difficult conversations.   
Question: How did you arrive at a place where your work centers on reducing stigma? 
Erin Gallagher: I lost my son, Jay, to suicide in 2016. We had had conversations in our family about hard things including suicide, but we never believed it could happen to us. He had not clearly expressed signs of suffering. He wasn't in treatment, and it was stigma that held him back from asking for help. My son was a high achiever, and we don't often see examples of people who are thriving with mental health conditions. People who live with mental health conditions often look like you and me, and they seem to be living well despite their experiences.  
I met Jennifer Marshall, the founder of This Is My Brave, and she told me about the work she was doing to break down stigma. As soon as I saw a This Is My Brave performance, I knew this was where I wanted to spend my energy for the rest of my life. We know stigma stops people from asking for help, and every time I share my family's story, it makes a difference. I'm grateful that it opens conversations and makes connections possible.  
Glenn Sterner: I was at a substance use conference, and another researcher wanted to talk to community members in a coffee shop. At the time the opioid crisis was fairly new to public discussion, and a woman came up afterward. She said, "My son is a Penn State student, but he is now in the criminal justice system because he was running pills across state lines to feed his substance use disorder. I don't have anyone to talk to. I can't tell my friends because they would think badly of us, and our family wouldn't trust him. We have this dark stain on us." This random person poured her heart out to me, and so I decided this has to be something that I take on.  
I worked with support from the Independence Blue Cross Foundation and the Pennsylvania Department of Drug and Alcohol Programs to start the Story Powered Initiative, which gives everyday people a platform to share their experiences and dispel myths. Later, I attended a This Is My Brave show in Utah, and I realized there was a direct connection to the Story Powered Initiative. It felt absolutely natural to work together.  
Personally, I identify as part of the LGBTQ community, and I know how it feels not to be respected and to have laws that say I don't have rights. When I came out to my family, I wasn't allowed to eat at the dinner table anymore because of the stigma surrounding AIDS. I have younger siblings and cousins who are gay and transgender so we stuck together, and I have a phenomenal relationship with them. You can have difficult conversations, and it's possible to break down stigma by making sure you are seen. I now have a fabulous husband, and I'm able to marry legally. The arc of my story is to let people know that life is not fair, but opportunities are attached to it. Don't allow isolation to persist and make connections. 
The arc of my story is to let people know that life is not fair, but opportunities are attached to it.

—Glenn Sterner , assistant professor of criminal justice
Question: Why are the arts and performance art in particular so effective in tackling stigma? 
Erin Gallagher: The arts are a language of the heart, and I think a poem that expresses shame and then hope can strike people in their hearts. It's less of an intellectual exercise, and it gives power to the storyteller. Many of the This Is My Brave performers have never been given permission to share their stories before. You receive affirmation by sharing, and it is extremely powerful for the storyteller. When I take an experience that's caused me pain, and I turn it into a piece of art, it can be celebrated, appreciated and affirmed.  
Glenn Sterner: One of my favorite sayings that I think is so important for our work is, "If you want something to live on, you have to give it away." We really want others to care for and honor our stories, and so the concept of sharing is incredibly important. It also ensures that it no longer just lives in your head, and it can be passed on. Performances can increase that ripple effect and increase impact, and that's what we want. I consider this to be an intervention that disrupts stigma. It's also a human experience. I see this as an incredible opportunity to not only address stigma, but also to give people the skills and abilities to regain their power. We want people to write their own stories. 
Question: What is the impact of This Is My Brave on the performers and the audience? 
Erin Gallagher: This Is My Brave is for the audience, but the work is also for the storytellers. We are building community. I make a calculation every day about whether to tell my story. It is freeing to share that portion of yourself even if it's just to one person. I hope people contemplate the benefits of storytelling in their own lives. This Is My Brave made me see my experience in a different way. I hope people start conversations and find people who are safe to be vulnerable with. We empower people to put names and faces to their stories. When we do this, we break down the stigma and normalize the experiences. It takes away the power that holds them in silence and suffering. 
Glenn Sterner: As you leave the performance, I hope you think about stigma differently. No matter who sees it — whether it's the performers, the audience, or even those who can't come — I want them to be a little more open-minded and supportive of others. It takes a long time to break down the walls around stigma, and people need to work through their own perspectives if we are hoping for change. There are ways we can have impact on our society, and one of them is by hosting This Is My Brave at Penn State Abington. As a land-grant institution, it's not enough to host educational experiences. We need to take our work and use it to improve society. 
About This Is My Brave-The Show at Penn State Abington 
Ten community members will share their original music, monologue, poetry and spoken word pieces along with comments from Sterner, Gallagher and other experts about fighting the stigma surrounding many human conditions.  
When: Oct. 12 at 7 p.m.
Location: Sutherland Auditorium at Penn State Abington, 1600 Woodland Road, Abington, PA 19001
About Penn State Abington 
Penn State Abington provides an affordable, accessible and high-impact education to its diverse student body. It is committed to student success through innovative approaches to 21st-century public higher education within a world-class research university. With more than 3,100 students, Penn State Abington is a residential campus that offers bachelor's degrees in 25 majors, undergraduate research, the Schreyer Honors College, NCAA Division III athletics and more.