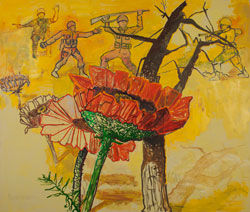 Penn State Abington students are surrounded by smart, fascinating people who do important work. And these people attract other smart, fascinating people who share their expertise with students outside the classroom. It's a cross-disciplinary feast of conversations, exhibits and films every semester.
The Abington Lecture Series hosts intriguing scholars who shake up students' thoughts and attitudes. As one student said, "The lecture opened up my brain."
This semester, the lecture series featured:
-- The University of Pennsylvania's Robert Kurzban, author of "Why Everyone (Else) is a Hypocrite: Evolution and the Modular Mind," who discussed the purpose of morality in society.
-- Leslie Bostrom exhibited "Monster Flowers," large-scale paintings of vivid curbside scenes of flowering invasives, wayward perennials, animals and debris. The Brown University professor described why she "crams nature and culture into the same pictures."
-- A roundtable on magic, alchemy, drugs and demons in pre-modern and contemporary China attracted Taiwan- and German-based experts. The room overflowed with students at this official event for the new Asian studies minor.
-- And the last visitor will arrive in mid-April -- Rutgers University's Eugenia Etkina, who believes that everyone should think like a physicist.
There's no popcorn but big kernels of thought are served at the movies each semester. Faculty from multiple disciplines organize a film series as a launching point for sometimes-difficult conversations. This semester's theme was 2013: Hollywood & Racism featuring "Fruitvale Station," "12 Years a Slave" and "The Butler."
Learn more about Abington events at www.abington.psu.edu/calendar.
The lecture series is presented by the Abington Academic Environment Committee, and the films are funded by the Abington Student Activities Fee.