Lion Ambassadors, Student Athlete Advisory Committee lend a hand to Philadelphia's hungry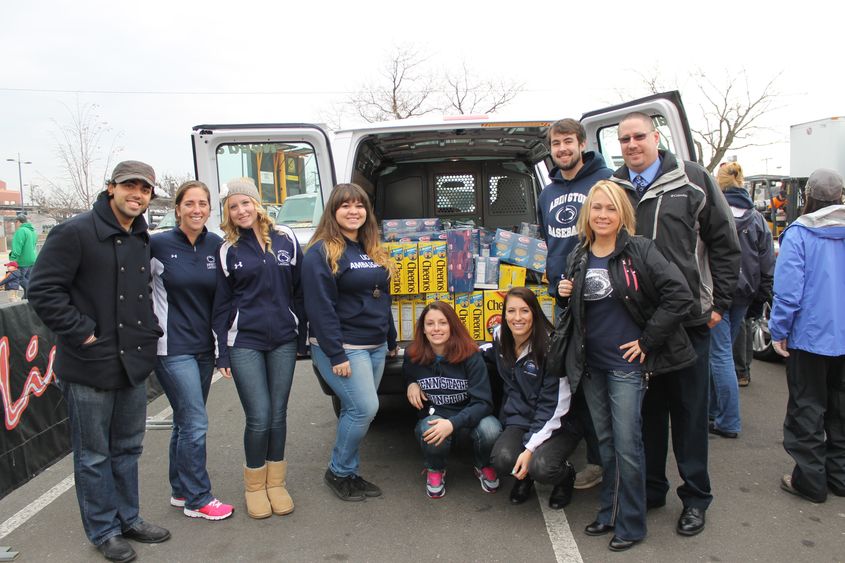 The determination and energy of two groups of Penn State Abington students resulted in the donation of 6,675 pounds of food to a Philadelphia area hunger relief organization.
The Lion Ambassadors (LAs) and the Student Athlete Advisory Committee (SAAC), rallied the extended campus community to open their kitchen cabinets, wallets and hearts to their neighbors who are struggling with food poverty.
The LAs are hunger-relief veterans. This is the eighth year they have set up tents throughout the campus for faculty, staff and students to fill with nonperishables. They also collected $2,400, double last year's amount, from alumni and friends of the college to purchase additional groceries.
"We are a really giving, caring and passionate family."

-- Erica Pulaski, associate director of enrollment management and retention
SAAC organized the student athletes this year and added a twist by staging their first Food Fight. Each of the 13 varsity athletic teams vied to donate the most food. The women's tennis team won the contest with the women's lacrosse players in second place.
Both groups of students and their advisers loaded up cars, vans and trucks, and delivered the food to radio station 93.3 WMMR Preston & Steve's annual Camp Out for Hunger this week in Philadelphia. Everything was weighed, and the students were thrilled to learn that they had collected more than three tons of food -- 6,675 pounds to be exact.
For Erica Pulaski, associate director of enrollment management and retention and longtime adviser to the LAs, the event reaffirmed her belief in the Abington campus community.
"Every year as I watch our Lion Ambassadors collect food, our THON team raise money, the Community Outreach Workers and all of our organizations passionately help our community and spread good into the world, I cannot help but be so proud," she said. "We are a really giving, caring and passionate family."
Pulaski worked with Director of Athletics Shawne McCoy, Assistant Athletic Director Noelle Powell and Assistant Director of Enrollment Management and Retention Latanya Moore to coordinate the student efforts.
Other individuals and groups also helped ensure the success of the food-raiser including former Lion Ambassador Scott Anderson, faculty who encouraged students to donate, the Montgomery County Chapter of the Penn State Alumni Association, the Alumni Admissions Committee and students at Central High School in Philadelphia.
The donations are processed and distributed by Philabundance, the Philadelphia region's largest hunger relief organization. Every pound and a half of food provides a full meal for four adults.