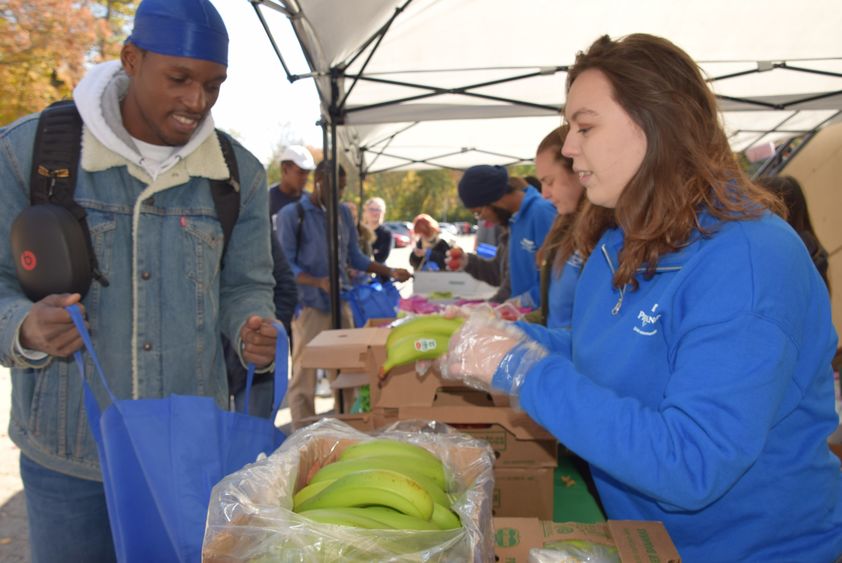 ABINGTON, Pa. — A new partnership between Penn State Abington and Philabundance, the region's largest hunger relief organization, adds weekly fresh produce distribution to the offerings available from the campus' LionShare food pantry. 
The program kicked off last week with the delivery of 1,000 pounds of cabbage, bananas, apples, and cherry tomatoes, enough to fill at least 60 of the reusable bags provided by the Abington Office of Student Engagement and Leadership (SEAL).
The fresh fruit and vegetable option occurs at a crucial time for students struggling with food insecurity since a campus-wide survey confirmed an increase in hunger toward the end of each semester when student loans and other funds run short. 
Gina D. Kaufman, director of Student Affairs, said the campus community is excited to work with Philabundance on this critical issue.
"The #realcollege survey data released this past spring reported 45% of college respondents were food insecure in the prior 30 days. Food pantries are just one avenue to assist with food insecurity," she said. "The Philabundance partnership provides an additional fresh and varied option for students. Launching this program as a campus community initiative assists in eliminating the stigma that free food is unhealthy or 'bad' food. By providing fresh and healthy options, we are letting students know they deserve healthy options no matter their circumstances."
Devin Hunter, agency relations services manager for Philabundance, praised Abington for tackling food insecurity among its students.
"By partnering with Philabundance and joining higher education institutions across the country in addressing the real-world experiences of their students, Penn State Abington is drawing attention to an issue that is often overlooked on college campuses," Hunter said. "College students should have access to healthy food that provides the energy, focus, and overall well-being they need to succeed in school."
The Office of Student Engagement and Leadership (SEAL) operates the Philabundance dropoff/pickup site by the Athletic Building as well the two-year-old LionShare food pantry in the Lares Building. Three students (senior Jhenna Trikha, junior Abisha Ebenezer, and first-year student Gurkirat Singh Dhamija) take the lead on these initiatives.
Trikha manages the Philabundance collaboration with support from Tracy Reed, SEAL's associate director. She is in charge of regulating how much food is distributed to each student and coordinating the Friday drop off and pick ups.
Food pantries are also available at many of Penn State's campuses, including University Park, Abington, Behrend, Berks, Brandywine, DuBois, Harrisburg, Lehigh Valley, Mont Alto and Penn College.
If You Go: Philabundance Fresh Food Distribution
When: Fridays from 12:15 to 1:15 p.m. (When campus is open and weather permits.)
Where: Athletic Building Parking Lot 
Who: Open to Penn State Abington students, faculty and staff
What: Bring your own reusable bag. 
About Penn State Abington
Penn State Abington provides an affordable, accessible and high-impact education resulting in the success of a diverse student body. It is committed to student success through innovative approaches to 21st century public higher education within a world-class research university. With about 3,700 students, Penn State Abington is a residential campus that offers baccalaureate degrees in 21 majors, undergraduate research, the Schreyer honors program, NCAA Division III athletics, and more.