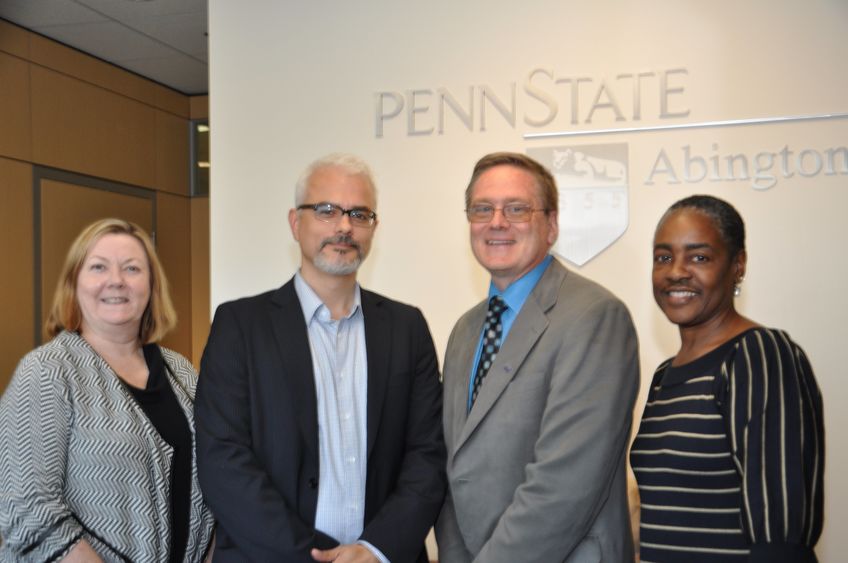 A Penn State Abington initiative to support international and multilingual student populations turned its focus last week to the unique challenges and adjustments facing Chinese undergraduates.
Abington faculty and staff attending the latest installment of the Global Awareness Dialogue Project (GADP) heard from an expert on how deep cultural and political differences impact the curricular and extracurricular success of Chinese students enrolled in U.S. colleges and universities.
Scott Stevens, director of the English Language Institute at the University of Delaware and coordinator of its master's program in teaching English as a second language, has written and presented widely on the topic. His dialogue provided context as well as tools faculty and staff can employ to help Chinese students become active members of the college community, develop a multicultural network of friends, cultivate skills appropriate to the U.S. academic context, and become independent and self-directed learners.
Abington faculty and staff are developing skills to help further the success and well-being of international students.
Following the discussion with Stevens, the group heard from Abington assistant professor of Asian history C. Pierce Salguero. Salguero, who is spending the semester as a visiting faculty fellow at Duke University, provided practical information on Chinese naming practices and pronunciations.
Salguero has been active in organizing programs aimed at supporting international, immigrant and multilingual populations at Abington. Earlier this semester, he collaborated with faculty and staff to establish the Abington Bilingual Student Support Network to help with translation emergencies and other issues.
Abington welcomed about 100 international students this fall, the largest group ever, with Chinese students outnumbering other nationalities. Through the GAPD and other initiatives, Abington faculty and staff are developing skills to help further the success and well being of these students.
The GADP lecture series focuses on pedagogy and global awareness, and each session is designed around a presentation and dialogue with external and internal experts who engage faculty on topics related to China, Africa, the Middle East and South Asia. Participants receive materials in advance to prepare them to participate.
The seminars are organized by reference librarian Paula Smith and Office of Global Programs coordinator Dolores Rafter Arevalo. The project was borne of Smith's thesis on the impact of globalization on education and is supported by the Chancellor's Vision Fund.
Abington has a longstanding reputation as one of the more diverse entities within Penn State and fosters an inclusive environment among faculty, staff and students. It was the first college campus in the nation to earn the No Place for Hate designation from the Anti-Defamation League.
To learn more about Abington's initiatives.
In addition to success Abington has experienced in this area, the University has been selected as a recipient of the 2013 Higher Education Excellence in Diversity Award. It recognizes U.S. colleges and universities that have exceptional strategies and programs to help achieve diversity and inclusion. To read more.