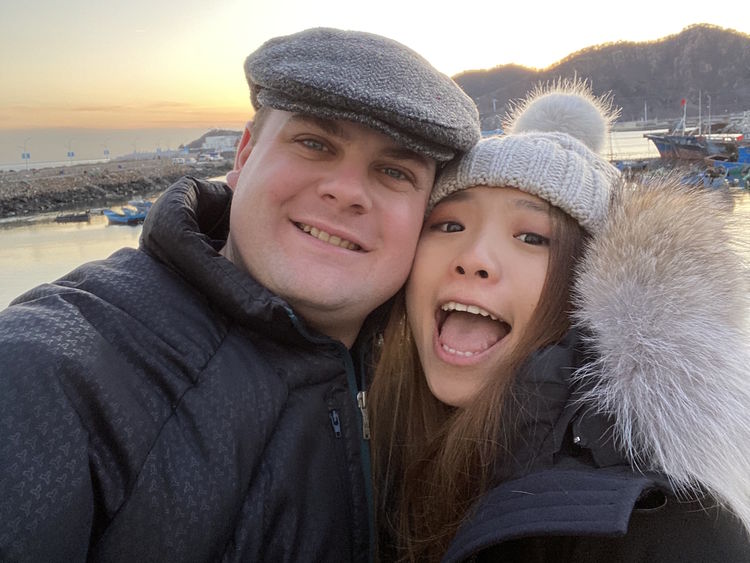 ABINGTON, Pa. — Penn State Abington alumnus James Gavin expected that studying in Japan for one week during his spring 2018 semester would be life-changing — and it was, but not for the reasons one might think. While he was there, he met the woman who will soon be his wife.
Blair Che was a student Seinan Gakuin University who volunteered to greet the Abington group upon their arrival at the airport in Japan.
"We really hit it off that first day and by the time we all were having a joint dinner between Abington and Seinan students that night, Dr. (Ross) Brinkert even joked, 'Our welcome dinner has turned into a group first date!' Ends up he was right," Gavin said.
Gavin graduated from Penn State with a degree in history. An Army veteran who serves in the Reserves, he is currently enrolled in graduate school at the Institute of World Politics in Washington, D.C.
"This was actually my third overseas trip with Abington. The first two were to the United Kingdom. While those trips were amazing in their own right, nothing quite compares to my Japanese experience," Gavin laughed. "We owe meeting each other to Penn State Abington."
"We owe meeting each other to Penn State Abington."

— James Gavin, Penn State alumnus
Tina Vance Knight, director of the Center for Career and Professional Development at Abington, accompanied the students and a faculty member on the study away trip to Japan.
"Truly, we witnessed love at first sight," said Knight.
The pair got engaged this December while visiting Che's family in Dalian, China. They haven't set a wedding date yet, but they plan to marry in the Philadelphia area.
Che will be moving to the United States after she graduates from Seinan in March. She said she wants to find work as a language teacher or interpreter. Gavin will graduate this May with a master's in statecraft and international affairs and will work for the U.S. Department of Defense after he receives his degree.
About Penn State Abington
Penn State Abington provides an affordable, accessible, and high-impact education resulting in the success of a diverse student body. It is committed to student success through innovative approaches to 21st-century public higher education within a world-class research university. With about 3,700 students, Penn State Abington is a residential campus that offers baccalaureate degrees in 21 majors, undergraduate research, the Schreyer honors program, NCAA Division III athletics, and more.