Groups spent Alternative Spring Break in Puerto Rico, South Dakota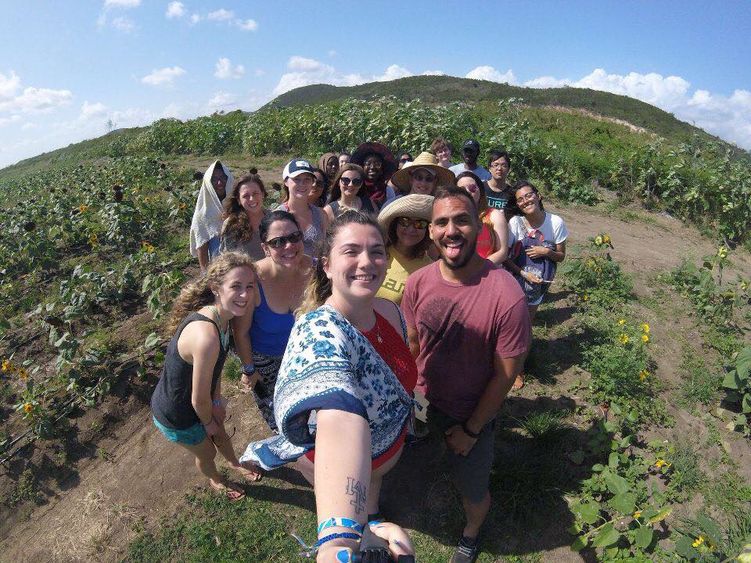 ABINGTON, Pa. — The hurricane-torn island of Puerto Rico and an impoverished Native American reservation in South Dakota are unlikely spring break destinations, but Penn State Abington students competed to travel to these two areas for Alternative Spring Break.
Puerto Rico
Ten students selected from the Abington and Penn State Berks campuses were accompanied by faculty and staff to travel to Puerto Rico. Although they focused on an environmental service project, the group also had the opportunity to immerse themselves in the local culture.
Abington student Alexandra Ryan shared her post-Puerto Rico reflections.
"This special week was a time that I will never forget and a trip that has opened my eyes to many new experiences," said Ryan. "From departing Philadelphia with a group of unfamiliar students and returning with new friendships and close relationships to working to help restore the important mangrove trees in the Puerto Rican wetlands to painting and improving a school, and finally, fully immersing in and learning a whole new culture, this week was nothing short of life-changing.
"The aspect of the trip that we focused the most on was the restoration of the mangroves, a crucial part of the wetlands. We spent time planting and weeding tiny mangrove plants in the nursery and cleared a large area of the wetlands and planted them. This intense manual labor was a type of work that I had never done before and seemed intimidating.
"However, the strong connection and bond that we formed on this trip with the students from Abington, Berks, and our teacher leaders ... allowed us to build a team that was bigger and stronger than anything that we have imagined. Coming together with a group of people that I have known for a mere week and completing an outstanding task really felt like I was making a difference.
"Puerto Rico and Alternative Spring Break have given me more than I could have imagined it could," said Ryan, "and I am so incredibly grateful for this opportunity."
South Dakota: Pine Ridge Indian Reservation
A second group of 10 students from the Abington and Berks campuses traveled to Pine Ridge Indian Reservation in South Dakota for a week of service learning and cultural immersion. The unemployment rate on the reservation hovers close to 90 percent, and life expectancy is the lowest in the nation.
Lukemon Arzo shared his reflections on living and working at Pine Ridge.
"Setting foot in the Philadelphia International Airport with 11 complete strangers, I had no idea that I was walking into the most life-changing experience of my entire teenage life," said Arzo.
"Arriving at the reservation, we met with Keller Allen. Keller and his wife, Leah, live in a bus with their two kids," he added. "Keller introduced us to many Lakota people who touched each of our souls in different ways.
"The first person we met was Jim, one of the tribe chiefs/council. He talked to us about his and his ancestors' history, the Lakota lifestyle and culture, and he was the first person to teach us a word in Lakota. He taught us, 'híŋhaŋni wašté' (pronounced 'hee-honey washtay') which means 'good morning.' One of my favorite words was 'wóphila,' meaning 'thank you.'
"I love this experience and hope to go once again," said Arzo. "All of the people I met on this trip have touched my heart in ways I didn't know were possible. 'Wóphila' for a great experience with amazing people."
About Alternative Spring Break
Alternative Spring Break places teams of students into experiences that help them clarify values, plan future academic work, or solidify career goals. The objectives include:
engaging with new communities though direct service work;
gaining awareness and in-depth education around social justice issues; and
learning the value of the reflection process and connect with others on a deeper level. 
About Penn State Abington
Penn State Abington offers baccalaureate degrees in 19 majors at its suburban location just north of Philadelphia. Nearly half of its 4,000 students complete all four years at Abington, with opportunities in undergraduate research, the Schreyer honors program, NCAA Division III athletics, and more. Students can start the first two years of more than 160 Penn State majors at Abington and complete their degrees at University Park or another campus.