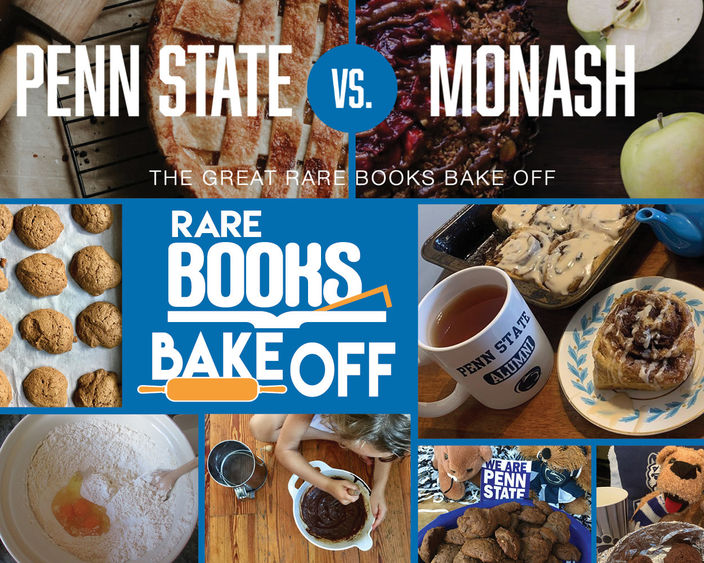 UNIVERSITY PARK, Pa. — A friendly baking competition with an Australian university has garnered Penn State University Libraries a shared first-place spot in the International Federation of Library Associations and Institutions (IFLA) PressReader International Marketing Award competition for 2021.
The Great Rare Books Bake-Off, a joint effort with Monash University Library last summer, provided an enjoyable, creative outlet during the pandemic by inviting the community to bake featured recipes from the universities' rare cookbook collections and post the results on social media. Each library earned points — and increased visibility — for every social post with its respective entry hashtag, #BakeMonash or #BakePennState. In this way, the competition tapped into a sense of community spirit while promoting the libraries' international partnership through a culturally engaging activity.
"I am so pleased that this collaborative project has been recognized in such an important international venue," said Mark Mattson, the University Libraries' head of global engagement initiatives and international partnerships. "The award is a great illustration of how institutions can work together across borders to increase the impact and efficacy of their work."
The idea for the bake-off came about as the result of a trip that was canceled due to the COVID-19 pandemic. Christina Riehman-Murphy, reference and instruction librarian at Penn State Abington, was working with colleagues at Monash on issues of diversity and inclusion in library instruction. She planned to travel to Australia in March 2020 through a Libraries International Partnerships Travel Grant. When international travel was restricted, she started looking for other ways to engage with her Monash counterparts, and came upon an online student engagement project that included cooking recipes from the Australian university's archives.
"I had worked on a similar project for a course taught by Marissa Nicosia, assistant professor of Renaissance literature at Abington, that involved transcribing some of our special collections materials related to food and historical recipes," said Riehman-Murphy. "I realized that between the two universities, we had the necessary tools and experience to put together a fun competition."
Additional inspiration came from a historical pie bake-off between the Folger Shakespeare Library and the William Andrews Clark Memorial Library at the University of California, Los Angeles. Both Penn State and Monash were so pleased with the contest's success that they plan to repeat it in fall 2021.
As joint first-place winners, the libraries will share the first-place prize of 3,000 euros, or approximately $3,558 in U.S. dollars, to be used for purchasing new technology for library-related activities.
Based in The Hague, Netherlands, IFLA is the leading international body representing the interests of library and information services and their users. Submissions from 23 countries were received for the award, which honors organizations that implement creative, results-oriented marketing projects or campaigns. Ten winners were selected based on criteria that demonstrated innovative and original project marketing strategies.
The award is sponsored by PressReader, a digital and print-on-demand newspaper and magazine platform.