Abington soccer player reflects on his mother's death and the role athletics played in helping him move forward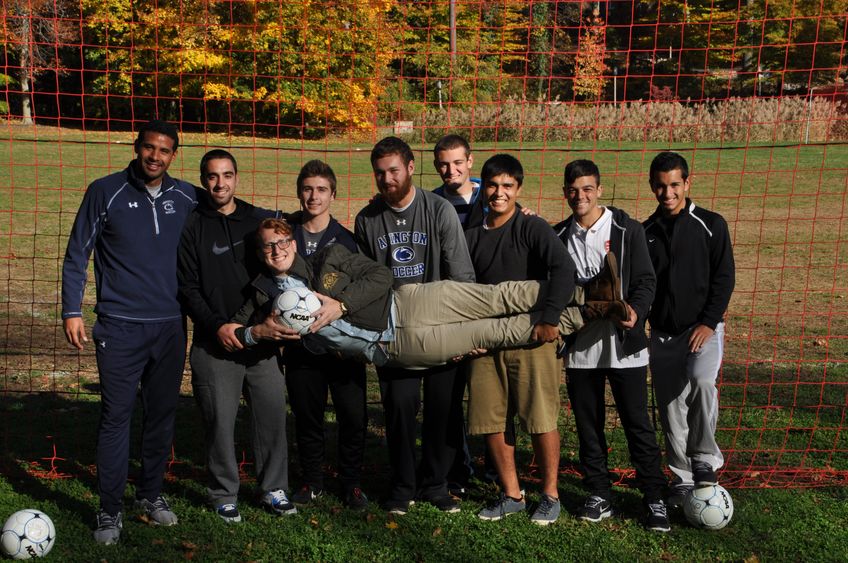 Penn State Abington student-athlete Phil Curry recently reduced volumes of research detailing the benefits of playing team sports to two simple sentences: "I had guys who told me 'I love you to death, I'm here for you.' The support was unreal. "
As his mother lay dying last fall, the team's brotherhood provided Curry with critical support, but its foundation was laid more than four years ago when head soccer coach David Castellanos began recruiting the tall redhead.
"Dave would come out and watch my high school games. He really wanted me to be a part of this program," Curry said.
"I'm glad this happened at a point in my life where I had guys who told me 'I love you to death, I'm here for you.' The support was unreal."

-- Phil Curry, Abington soccer player
Fast-forward to the fall 2012. Curry was a flourishing junior at Abington, but his mother's decade-plus struggle with breast cancer was rapidly coming to a close. On a game day in mid-October, Curry chose to honor his mom in a way that embodied their relationship.
"My mom was so involved in my sports life. She really motivated me," he reminisced. "Something about that day was like, 'I want to play this game for her.' I gave her a kiss goodbye, played, and she passed away the next day. That was my final goodbye."
As Curry, his dad and brothers prepared for the funeral, the team decided to don black armbands for their remaining games to honor Curry and his mom.
"The day after her funeral, the team sent me a picture of them all wearing the armband," Curry said. "The entire team came to the funeral, even though they had a game the next day."
Castellanos was struck by his team's care and concern.
"It was emotional for all of us," the coach said. "I thought it would be nice if one or two players came to the funeral, but 25 guys showed up."
And Curry said it wasn't only the men's soccer players who delivered when he was in need – the Abington campus community pulled together for him.
"The women's soccer team cooked a whole meal and baked cookies for me. The head athletic trainer talked with me because she went through basically the same situation," he said. "The whole Penn State Abington organization was great. That month could've been really bad if I hadn't had them."
"I'm glad this happened at a point in my life where I had guys who told me 'I love you to death, I'm here for you,'" he said. "The support was unreal."
When Curry returned to the team, he was adamant that he didn't want any special consideration.
"I practiced, and Dave was still being hard on me," he said. "I loved that because he wanted me to know that this family was here for me and still wanted me to perform."
Castellanos said he wanted to make Curry feel back at home at Abington.
"As a leader of the team, I couldn't let him off the hook," the coach said. "I wanted at least 90 minutes of solid effort out of him."
"It was refreshing being back on the field the rest of last season," said Curry, a slight smile crossing his face. "Soccer is something I do to preserve my mom's memory. It's like a bond, where I play soccer and she loved to watch me play. That memory is something I'll have forever."
Now a senior, Curry attended a leadership conference last summer, and it inspired him to use his role as a team captain to help younger players benefit from the fellowship he experienced. He also was just selected to the first team all conference by the North Eastern Athletic Conference.
Away from soccer, the integrative arts major has other passions including music. But don't question him too closely about his post-graduation plans.
"The idea is to become an eccentric billionaire," he said with a laugh. "I wish I thought of the Facebook thing, but I guess somebody's already got that."
For now, he takes life one day at a time.
"It's the year anniversary of my mom passing away, but I'm having a good day," he said. "I know life goes on."