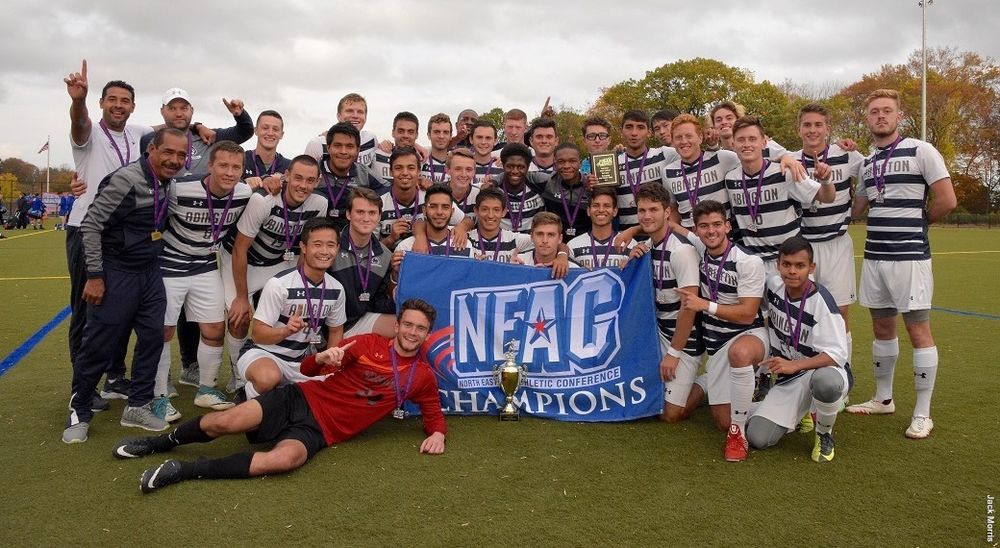 The Penn State Abington men's soccer team defeated the State University of New York Polytechnic Institute 1-0 on Sunday to earn the team's first North Eastern Athletic Conference (NEAC) Championship and an automatic bid into the NCAA DIII men's soccer tournament. (Game recap).
Head Coach David Castellanos, whom the NEAC named Coach of the Year for the second time, is extremely proud of the team and their work ethic.
"We are very honored and humbled. We have battled hard with every team in this very competitive conference. All season long we have been focused and hungry to get back to this exact moment," he said. "We have used lessons of years past to learn, grow and mature. Everyone on this team has worked hard and has pushed themselves both mentality and physically to be where we are."
Hernando Villamil scored the game-winning goal and was named NEAC tournament most valuable player.
In addition, Abington players scored individual accolades last week from the NEAC. Senior Andrew Costa won Defensive Player of the Year honors and was named to the first team all conference with freshman forward Jose Palomeque.
Several other players were named all conference including:
Second Team All-Conference: sophomores Jake Kemery and Ty Morris.
Third Team All-Conference: Freshman Michael Albers and sophomore Justin Tobin.
Penn State Abington, formerly the Ogontz campus, offers baccalaureate degrees in 19 majors at its suburban location just north of Philadelphia. Nearly half of our 4,000 students complete all four years at Abington, with opportunities in undergraduate research, the Schreyer honors program, NCAA Division III athletics, and more. Students can start the first two years of more than 160 Penn State majors at Abington and complete their degrees at University Park or another campus. Lions Gate, our first residence hall, opened in August 2017.