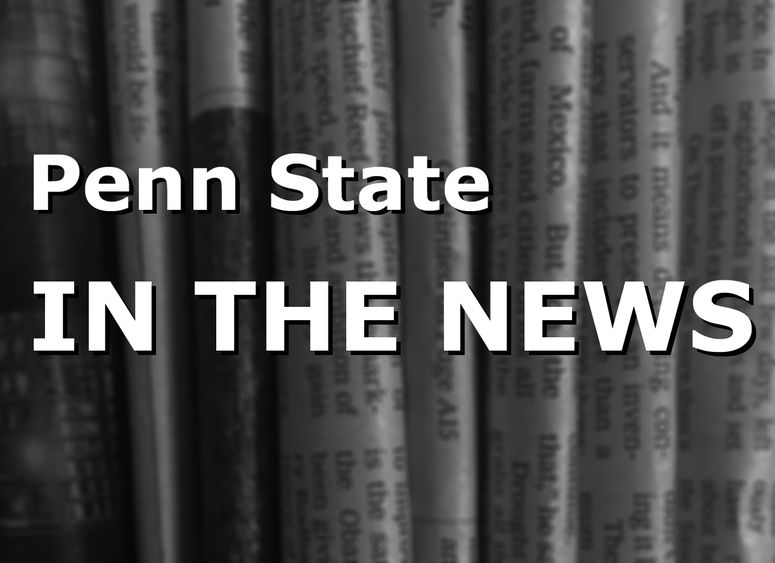 UNIVERSITY PARK, Pa. — Penn State appears in the news hundreds of times every day. Monthly, the University's Office of Strategic Communications features national and international news coverage of the work and expertise of Penn State's faculty, students and staff.
February's highlights:
-- Penn State researchers were part of one of the biggest scientific discoveries of the modern era. A hundred years after Albert Einstein predicted the existence of gravitational waves in his Theory of Relativity, Chad Hanna and a group of scientists at the Laser Interferometric Gravitational-wave Observatory (LIGO) proved him correct when they detected gravitational waves. Hanna called those waves the "soundtrack of the universe." The story ran in nearly every news outlet including CBS News, The Washington Post and in international publications like The Daily Mail. "It's really comparable only to Galileo taking up the telescope and looking at the planets,'' said Penn State physics theorist Abhay Ashtekar, who wasn't part of the discovery team. "Our understanding of the heavens changed dramatically.''
-- Penn State has several world-renowned experts on climate change. In February, Political Science Professor Eric Plutzer released his research on how science teachers in the United States were teaching the subject. He found that only about 30 percent of middle and high school teachers are teaching that climate change is happening and has mostly been caused by humans. He said more than 95 percent of scientists believe that to be the case. He also found that teachers are only spending one or two hours on the topic over the entire year. "It's clearly not enough time to really provide students with a good scientific understanding," said Plutzer. The New York Times, U.S. News and World Report and The Weather Channel were just a few outlets that covered his findings.
-- The Raise.me scholarship is a unique micro-scholarship that Penn State is trying out in several communities. It allows high school students to amass money for college through their high school successes. The student can earn money for good grades, perfect attendance, community service and many other opportunities. The New York Times highlighted the program, and a Penn State Abington freshman earned about $13,600 through Raise.me. "It was kind of addicting. You kept adding in things and you could see how much money you kept making," Ashley Ayala-Perez told The New York Times. "It made it more concrete."
-- Penn State was singled out for the work that the University invested in the President's Task Force on Sexual Assault and Sexual Harassment last year and other efforts the University community has taken and continues to take surrounding the topic of sexual misconduct and assault. ABC Nightline hosted a discussion at University Park about sexual assault on college campuses. About 200 students listened to the expert panel discussion and watched actors play out scenes meant to teach people about consent. Students also participated in the event by asking questions of the experts.
-- Since 1997, the Penn State IFC/Panhellenic Dance Marathon (THON) has raised more than $136 million to support pediatric cancer patients and support cancer research. This year the largest student-run philanthropy in the world raised more than $9.7 million. Inspirational stories like that always generate a lot of attention in the media. This year many outlets found deeper stories than just the amount of money raised. USA Today told the story of Andrew Garwood, who started raising money for THON as a freshman at Penn State. He was diagnosed with cancer in September 2014, and he died in January of this year. But he inspired other students to dance for him. "He will be my motivation in dancing this year," Blake Wilhelmy, Garwood's friend and fraternity brother, told USA Today. "I only wish he could be there with me, but I know he'll be looking down on me, cheering me on the whole time." ESPN highlighted the athletes dancing at THON, like soccer player Angela Widlacki, who said, "It just reminds you why you're dancing. When you see the people it affects, it really pulls at your heart strings when you see just how strong these kids are. They're so much stronger than I am." And People Magazine profiled a teen cancer survivor who used to get support messages from Phi Kappa Sigma brothers at Penn State and now is a member of that fraternity, a THON volunteer and in remission for five years. "The emotional support is the dearest thing to my heart," Brady told People magazine. "It kept me smiling, it kept me going for more than just myself and my family, for every single kid in the world. Without THON, I wouldn't be here today."
These are just a few of the highlights. For more of Penn State's experts' appearances in the media, visit http://news.psu.edu/media-highlights.