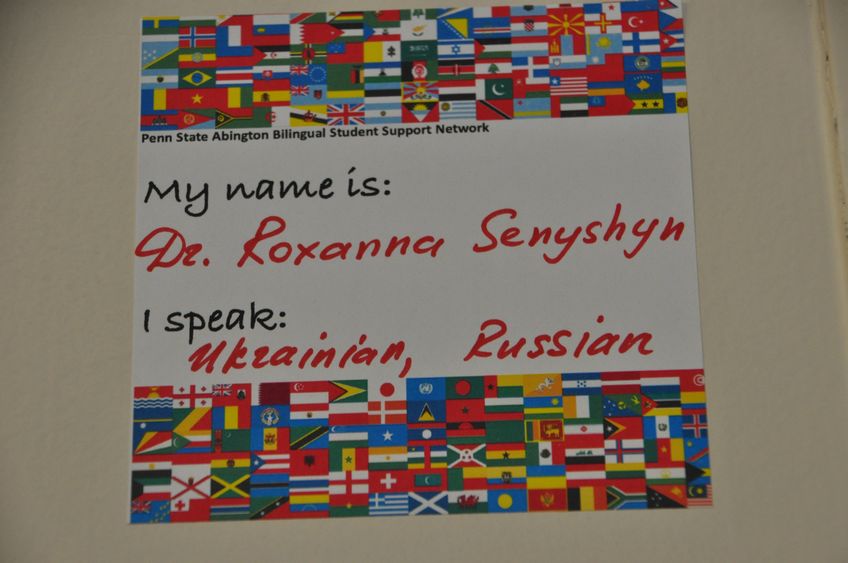 Dr. Martin Luther King Jr. was honored worldwide last week for jump-starting the conversation on equality and human rights 50 years ago during the March on Washington. Last week, too, the essence of Dr. King's dream infused a new effort at Penn State Abington to create a more welcoming and supportive environment for international students.
In a mere five days at the beginning of another hectic semester, 69 Abington faculty and staff committed to the nascent Abington Bilingual Student Support Network. C. Pierce Salguero, associate professor of Asian history, said the network was created in response to the needs of Abington's growing population of international and immigrant students, in addition to others who speak English as a second language.
"Clearly, Abington is now a more international and more multilingual campus than ever. One message we have heard loud and clear from bilingual students is that they often have a difficult time adjusting to the challenges of college. They feel isolated and lonely," he said. "That was the impetus to form the network. It showed the need for a more organized response."
It is unknown exactly how many multilingual students are enrolled at Abington, but the campus welcomed its largest group of incoming international students this fall, bringing the total to about 90 in addition to other multilingual populations.
"Clearly, Abington is now a more international and more multilingual campus than ever."

-- C. Pierce Salguero, associate professor of Asian history.
Currently, there are two components to the network:
• Large support network stickers are prominently posted in offices and hallways, clearly printed with the languages participants speak to make them easily identifiable to students. Stickers also were distributed to English-speakers who volunteered to help facilitate intercultural communication.
• A list of faculty and staff who can be contacted in case of a translation emergency is being compiled.
Already, Salguero has a broader vision for the network.
"Building on this starting point, I can see potential for developing additional services in the future in terms of student support, advising, cultural programming and travel abroad opportunities," he said.
But Roxanna Senyshyn, coordinator for English as a second language programming, has a more immediate concern. She pointed out that the network may need to be renamed just a week after its public debut due to the discovery that a number of faculty, staff and students speak more than two languages.
"Perhaps the multilingual support network would be more appropriate," she said.
Eighteen languages are spoken by faculty and staff in the network: Spanish, French, German, Italian, Chinese, Korean, Hungarian, Ukrainian, Russian, Hindi, Urdu, Bengali, Arabic, Farsi, Turkish, Azeri, Creole and English.
Joining Salguero and Senyshyn in organizing the network are Intercultural Affairs Coordinator Jose Rodriguez and Office of Global Programs Coordinator Dr. Dolores Rafter Arevalo.
Abington has a long-standing reputation as one of the more diverse campuses within Penn State. It was the first college campus in the nation to earn the No Place for Hate designation by the Anti-Defamation league.