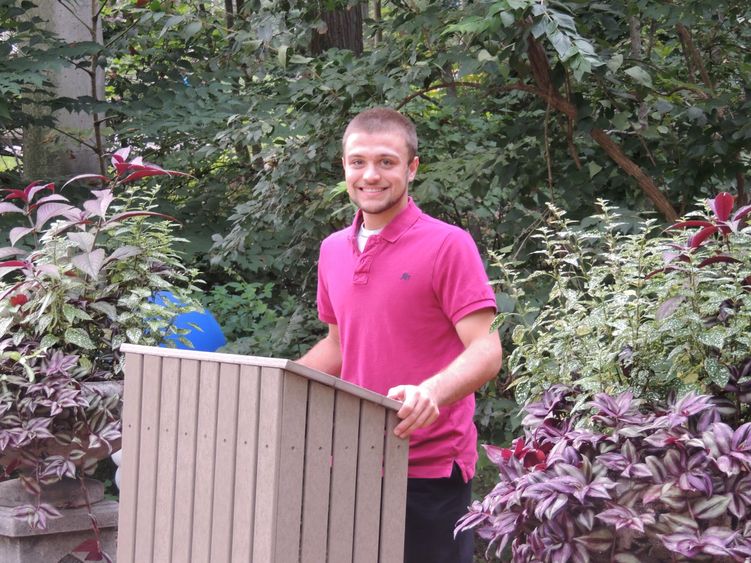 Eleven Penn State Abington students were selected as recipients of the University Faculty Senate scholarships for the 2013-14 academic year. The average award was $1,000, and each was primarily presented to third- and fourth-year students with exceptional grade point averages.
Among the Abington honorees, some work full time and have travelled and studied abroad. Others volunteer with organizations at Abington and beyond, and they intend to become doctors, dentists and college professors. Here are a few of their stories:

Cory Gehris, Class of 2015
Major: History
Activities: Abington Honors Program; full-time receiving manager at Party City; People to People Student Ambassador Program to France, Italy and Greece; Special Olympics volunteer
"As a history major, I am fascinated by the way this country was formed so I prefer to study America and the American Revolution. I would like to complete an internship before I finish at Abington," he said. "After I graduate, I want to work in a museum, earn my master's degree and some day become a college professor."
O. Shade Akinmorin, Class of 2015
Major: Biology
Activities: Abington Honors Program, The Abington Review poetry editor,
Lion Ambassadors, student representative to the Abington Academic Integrity Committee
"I want to attend Harvard or Columbia medical school and become a cardiologist or dermatologist," Akinmorin said. "Down the road, I hope to build a chain of clinics both in the U.S. and Nigeria to support low-income families. I want to build clinics in Nigeria because it is my mother's native land, and I have seen the horrible medical conditions up close and personal when I visit over summer breaks."
Danilo Lamounier, Class of 2015
Major: Science
Activities: Science and Environmental Club, Math Club, Pre-Dental Club
"I plan to attend dental school," Lamounier said. "I expect to graduate a semester early."
Shardai Green, Class of 2015
Major: Psychological and Social Sciences
Activities: Psychology Club, Dosomething.org
"I intend on enrolling in graduate school for psychology," Green said.
Christopher Cothran, Class of 2014
Major: Information Sciences and Technology
Activities: Student Government Association, Diversity Leadership Retreat program, cross country team, currently study abroad at the Hof University of Applied Sciences, Germany, interned at Vanguard
"After graduation, I want to work as a software developer at a major financial institution, travel the world, run triathlons, and hike the entire Appalachian Trail. They are pretty hefty goals, but I'm hopeful!" Cothran said. "I run for the cross country team and even though I'm not running this year due to studying abroad, I will support the team in any way I can. I love running."
Brittani Yacovone, Class of 2014
Major: Corporate Communication
"I am minoring in business and taking 22 credits this semester," Yacovone said. "I would love to enter the field of human resources. I would like to focus on landing a job within Abington Memorial Hospital."
These Abington students also earned Faculty Senate scholarships:
• Lauren Carbone and Danielle Justice (Psychological and Social Sciences)
• Jiya Kim (Corporate Communication)
• Victoria Sadjian and Thomas Van Osten (English)
The selection process began with faculty nominations to the Abington Faculty Scholarship Committee, which ranked the students. The data was forwarded to a committee at University Park that made the final determinations, distributing awards equitably across all campuses in proportion to campus undergraduate enrollments. University-wide a total of 220 students received the scholarships for the academic year.