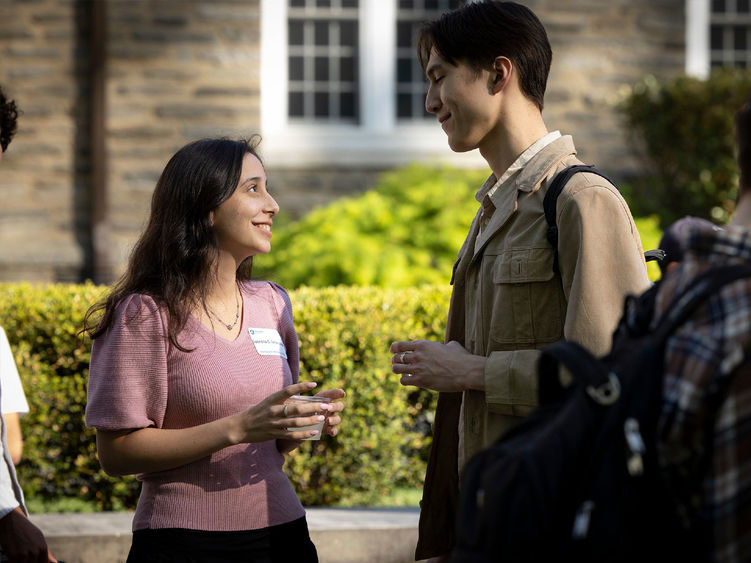 ABINGTON, Pa. — Penn State Abington students celebrated their academic achievements with their loved ones, faculty and staff at the annual Awards and Leadership reception. Led by Chancellor Margo DelliCarpini, the campus community recognized the students' high standards and dedication to excellence.  
"Quality does not emerge from checking boxes. People who strive to excel go beyond what is required. ... You embody Abington's core values of academic excellence, community engagement, diversity and inclusive excellence, and ethical learning," she said. 
A total of 112 Abington students were recognized with annual University-wide awards for academic excellence: 
President's Walker Award: Eighty-nine first-year students received this award for earning a 4.0 grade-point average in their first semester.  

President Sparks Award: Thirteen Abington sophomores who maintained a 4.0 cumulative grade-point average at the end of their third semester received this award.  

Evan Pugh Scholar Award: Ten juniors and seniors in the upper 0.5% of their respective classes at the end of their fifth semester and beyond were recipients of this award. 
David Ruth, associate professor of history and coordinator of the Penn State Abington Honors Program, recognized 80 students who successfully completed the program's requirements including maintaining a 3.3 cumulative average, enrolling in honors courses, participating in research and leadership activities, and working with professors on an independent study.  
Lisa Chewning, the interim Division Head for Arts and Humanities and associate professor of corporate communication, presented the awards for excellence in the arts and humanities.  
Rick Arkans Memorial Scholarship: Tinatin Sadzaglishvili  

John Pixton Scholarship: Tinatin Sadzaglishvili  

Friends of Ogontz-Abington ROTC Endowment: Charlie Zagdanski 

Beverly Wright McHugh Award for English: Megan Staeb  

Thomas R. and Eileen Walton Smith Award for Achievement in the Arts and Humanities: Orest Luzeckyj (learn more about Luzeckyj's accomplishments here)

Joel Z. and Joan L. Bachman Scholarship: Luis Palau and Joel Varghese 

John Pixton Scholarship: Kavan Adeshara 

PNC Financial Corporation Scholarship: Sharier Suvo 

Knodt-Miller English Recognition Award: Ethan Rauch 

Michael T. Plam Memorial Prize for History: Hussein Al-Abyad 
Nine student also were honored for outstanding merit in their discipline as part of the Bertha Lear Annual Student Art Exhibition.
Nicole Stokes, Division Head for Social Sciences and professor of sociology, presented the awards for the excellence in the social sciences. 
Criminal Justice Award - Abington: Kayla Hernandez 

Samuel J. DiRoberto Award: Bahtyah Abov and Jasmine Schlater  

R. Bruce and Lucille D. McKee Scholarship at Penn State Abington: Cristiane Barbosa, Haiquan Chen, Wainsdli Dorvil, and Ramie Lamaj   

Dr. Jeanne Smith Psychological and Social Sciences Award: Molaea-Rene Goodman (learn more about Goodman's work in promoting mental health care here) 

Jeanne Levy Smith Undergraduate Scholarship in Psychological and Social Sciences: Kyleigh Byers 

Samuel J. DiRoberto Award: Mariah Pagan 

Samuel J. DiRoberto Memorial Scholarship in Accounting: Ramie Lamaj and Rachael Prokopowycz  

Thomas and Loisanne Fitzpatrick Endowed Scholarship: Abdullo Subhonov 

Susan Lynne Keiser Scholarship: Haley Pomponio  

Daniel V. Murray and Yue Auyoung Business Scholarship: Ermina Uddin  

Wesley A. Olsen Memorial Scholarship: Santino Esposito and Kaelyn Walsh 

Louis C. Riggs Jr. Scholarship: Ermina Uddin 
Matthew Fury, the Division Head for Science and Engineering and professor of mathematics, presented the awards for excellence in his division. 
Dr. Robert A. Bernoff Award: Alysse Tucker  

Barbara deFlorio Gorsen Endowed Scholarship at Penn State Abington: Megan Staeb 

Gerald P. Kessler Scholarship: Anastasia Volyanyuk  

Sanford F. Nicol Award for Engineering: Sarah Gibbons and Javari Cherry (learn more about Cherry's research and collaborations with faculty here) 

Chandrashekhar and Anita Pendharkar Award: Patrice Manasse  

Outstanding Freshman Chemistry Student: Aaron Haq 

Lillian Rankin Science Award: Ashlee Barnett 

Ayoub Mathematics Achievement Award: Andrew Maiorini 

Gerald P. Kessler Scholarship: Abdullah Aldghim 

Outstanding Freshman Chemistry Student: Brandon Feldman 

Dr. Harvey S. and June T. Koch Scholarship: Fahim Dhrubo 

David B. Peterson, Jr. Memorial Award: Tara Schmidt 

Eleanor Wilson Award for Physics: Tristan Gyure 
About Penn State Abington 
Penn State Abington provides an affordable, accessible and high-impact education resulting in the success of a diverse student body. It is committed to student success through innovative approaches to 21st-century public higher education within a world-class research university. With more than 3,100 students, Penn State Abington is a residential campus that offers baccalaureate degrees in 25 majors, undergraduate research, the Schreyer Honors College, NCAA Division III athletics and more.