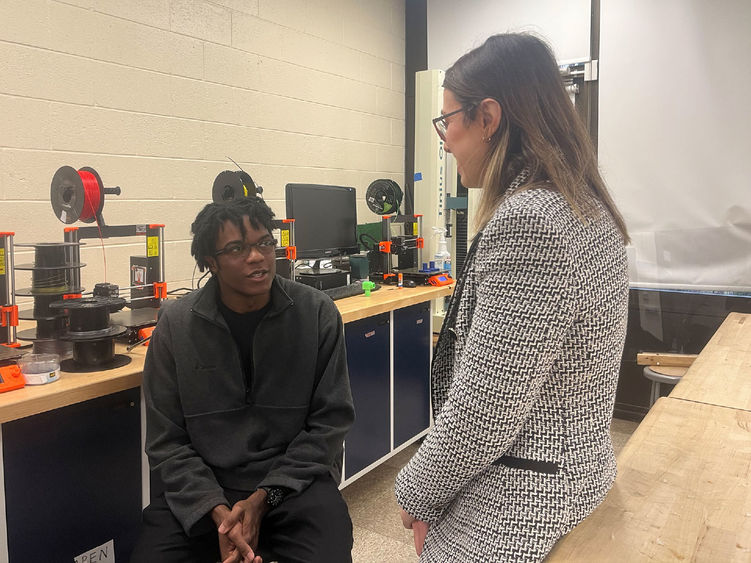 ABINGTON, Pa. — A Penn State Abington engineering major is flourishing academically and laying the groundwork for the future by capitalizing on opportunities open to undergraduates including research with faculty, employment on campus that applies to his field, and presenting his research at a professional conference. 
Javari Cherry, a sophomore from Philadelphia, enrolled at Abington in 2021 and immediately began earning credits by analyzing data for a research project led by Burcu Ozden, assistant professor of engineering, through ACURA (Abington College Undergraduate Research Activities). 
Ozden quickly became a mentor to Cherry and a conduit for building connections in his budding career. 
"Dr. Ozden is not only an expert in the field and a highly interesting person, but she is also a minority like me and a woman and not from this country. She has been mentoring me, and she has been through a lot of what I need to do," he said. 
Last summer, Ozden's networks led her to recommend Cherry for a job as a research assistant at University Park's Ken and Mary Alice Lindquist Department of Nuclear Engineering, in a lab led by Jean Paul Allain, the Huck chair professor and head of nuclear engineering. 
"I was there for two months and worked with a post-doctoral student as well as people in the materials science lab. There were a lot of wonderful people who took the time to teach me, and I developed a deeper understanding of analyzing data and drawing conclusions from the data," Cherry, who is majoring in aerospace engineering with a minor in applied math, said.  
This fall, Ozden again played an important role in Cherry's progression by supporting him when he applied to present his summer research at a regional conference of the American Physics Society. His poster, "The Effects of Gamma-Ray Irradiation on Physicochemical Properties of MoSe2," was selected, and he was the only undergraduate from a Penn State Commonwealth Campus to participate.  
"It was a great experience, and I had the time to talk to people from other universities about their projects. They were mostly seniors, and it was very intimidating, but I learned a lot about navigating the research field," he said.  
As the result of his research experiences during his first and second years as an engineering major, Cherry is developing two articles to submit to scientific journals. 
"It's a heavy lift writing for a scholarly article, and Dr. Ozden is helping me with editing. She is good at this, and she explains the process clearly. She is a really wonderful person and professor," he said. 
I'm African American, and it's not really common to see a Black scientist. If you don't meet anyone who looks like you along the way, don't let that deter you from what you want to do.

—Javari Cherry , Sophomore engineering major
Cherry is working as a teaching assistant with a physics professor at Abington this semester, and he is active in the campus engineering and finance clubs while contemplating career paths. 
"I really like the courses and working on projects with a team and developing my critical thinking — it builds pathways in your mind to better solve problems," he said. 
Cherry wants to work as an engineer and researcher, eventually developing jet propulsion techniques that are more environmentally sustainable. He also reflects on the whirlwind journey of his semesters at Abington and encourages students to go all in on the major. 
"You don't want to fall behind so prepare at every chance you get by watching lectures on relevant work, managing your time, and understanding that a lot is going to happen academically and in life," he said. 
"You need to stay disciplined and motivated and see it through to the end. Remember that Nobel prize winners started out as regular researchers," Cherry continued. 
As a minority in a STEM major, Cherry has pointed advice for high school students.  
"I'm African American, and it's not really common to see a Black scientist. If you don't meet anyone who looks like you along the way, don't let that deter you from what you want to do," he said. 
About Penn State Abington 
Penn State Abington provides an affordable, accessible and high-impact education resulting in the success of a diverse student body. It is committed to student success through innovative approaches to 21st-century public higher education within a world-class research university. With more than 3,100 students, Penn State Abington is a residential campus that offers baccalaureate degrees in 25 majors, undergraduate research, the Schreyer Honors College, NCAA Division III athletics and more.