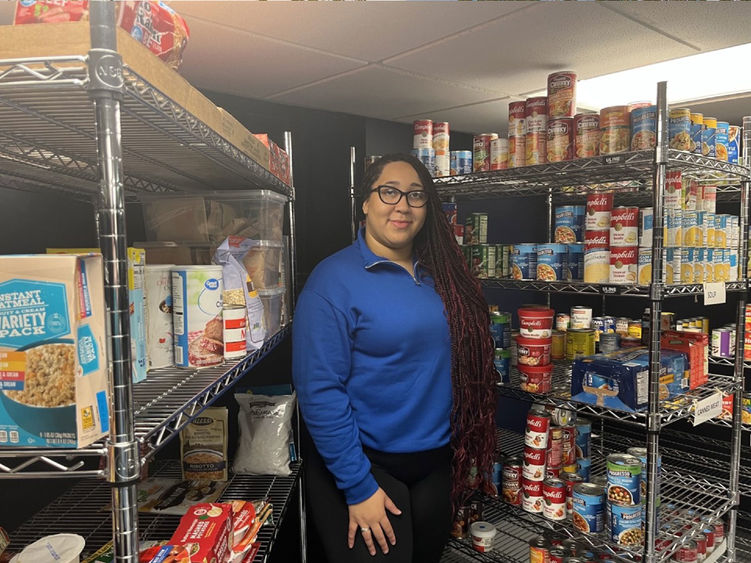 ABINGTON, Pa. — Hunger among college students has increased since the onset of the pandemic, and food insecurity disproportionately affects students of color. At Penn State Abington, where almost 50% of the population identifies as nonwhite, the LionShare Pantry and Market is seeking donations to support its efforts to alleviate hunger among its students. 
The pantry operates solely through grants and donations, including those from area churches, local alumni chapters, and Abington faculty and staff. A grant from the Leo and Peggy Pierce Family Foundation funds intern wages, gift card assistance, and restocking the pantry.  A gift from alumni Stan and Lois Singer provides food for the pantry and gift card assistance. 
Interested donors can complete this form to support the LionShare Pantry and Market.  
The pantry provides nonperishable food items, toiletries and cleaning supplies to students living with food insecurity. It also supplies gift cards so students may purchase perishable items such as dairy and meat/meatless options.  
LionShare, which is managed by Student Engagement and Leadership (SEAL), partners with the nonprofit Philabundance, which delivers fresh fruit and vegetables to the campus. An updated Philabundance schedule will be available soon.
SEAL's two student LionShare service associates, Nora Quriashy and Brianna Thompson, organize the pantry, collect and track intake forms, fill shopping bags for student pickup, monitor the gift card assistance program, and develop reports on operations.   
"Right now, one of our most important goals is creating more exposure for our programs to better help students," Thompson said. 
"The best part of working the pantry is being part of a mission that fights food insecurity," Quriashy said of the pantry, which is located in the Lares Building.  
Students who want access to the pantry's services should complete the confidential intake form or direct questions to [email protected]. Hours and additional information about services for those experiencing food insecurity can be found on the LionShare website.
About Penn State Abington 
Penn State Abington provides an affordable, accessible and high-impact education resulting in the success of a diverse student body. It is committed to student success through innovative approaches to 21st-century public higher education within a world-class research university. With about 3,100 students, Penn State Abington is a residential campus that offers baccalaureate degrees in 24 majors, undergraduate research, the Schreyer Honors College, NCAA Division III athletics and more.