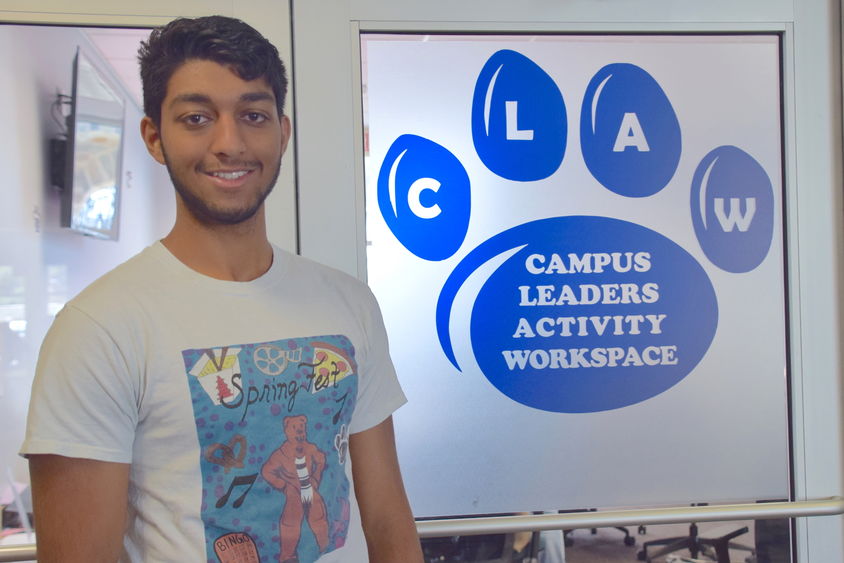 ABINGTON, Pa. — As the Student Government Association (SGA) president at Penn State Abington, Vedan Desai represents the campus' population of more than 3,700 undergraduates. He leads an organization that provides support and advocacy, enhances the college experience, and builds a more connected and cohesive community.
"Without a doubt, providing students with a platform is my greatest responsibility. It is imperative that as the elected representative for the students at the Abington College, I ensure that student voices are heard by our administration and our faculty," he said.
Desai, a sophomore, managed an important change in the SGA's structure this year.
"I succeeded in bringing the efforts of my predecessors to fruition and created our student senate, the first of many steps in ensuring that more student voices are heard," he said. "We meet biweekly to pass legislation and discuss student-specific topics from around our campus," he said.
Different segments of the community are represented by two senators each:
Lions Gate student apartment residents
Off-campus housing residents
Commuters
International students
In addition, the academic divisions at Abington — Arts and Humanities, Science and Engineering, and Social Science — are represented by two senators each.
"My plan is to expand the senate, possibly adding representatives for student workers and nontraditional students," the finance major said. "The goal is to add more representation across campus and have a total of about 19 senators."
The SGA also includes three standing committees: Governmental Affairs, Academic Affairs, and Student Affairs.
"I want to make Abington a 24/7 campus, and I see it happening more and more each day."

—Vedan Desai, Penn State Abington Student Government Association president
One of Desai's goals is to increase student engagement across campus.
"We are successful with it now, thanks in a large part to SEAL (Student Engagement and Leadership), but we want to expand our offerings to keep the level high," he said. "This includes promoting athletics and intramurals.
"But I want to transform and enhance the environment with an even wider variety of activities. I want to make Abington a 24/7 campus, and I see it happening more and more each day," continued Desai, who hails from Canada.
Desai's daily schedule is jam-packed with classes, meetings, and office hours in the CLAW (Campus Leaders Activity Workroom) in the Lares Student Union Building.
"On an average day I have a ton of meetings, including budget committee meetings. I schedule out my week on Mondays, and it includes things like tabling for voter registration and one-on-ones with the SGA advisers. I field a lot of questions about the SAF (Student Activity Fee)," he said.
"One of the most important parts of being SGA president is being visible and attending events so people can ask questions or come to me with problems."
Vedan calls student involvement "life-changing."
"I encourage every student to get involved even if they are eventually leaving for University Park like I am. It will help you make so many connections [here] and then you will have friends already at University Park," he said. "It's one of the major advantages of doing two years at Abington and two at University Park. It gives you anchoring friendships."
About Penn State Abington
Penn State Abington provides an affordable, accessible, and high-impact education resulting in the success of a diverse student body. It is committed to student success through innovative approaches to 21st-century public higher education within a world-class research university. With about 3,700 students, Penn State Abington is a residential campus that offers baccalaureate degrees in 21 majors, undergraduate research, the Schreyer honors program, NCAA Division III athletics, and more.