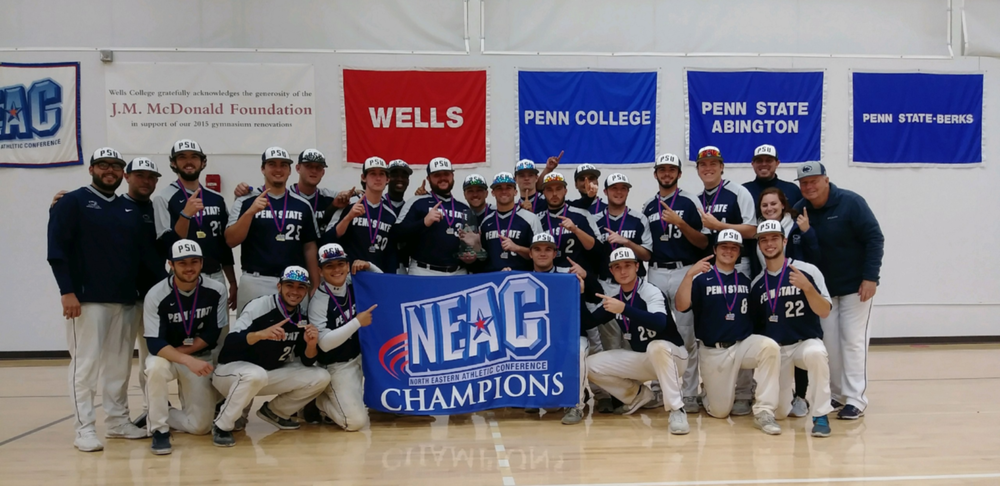 ABINGTON, Pa. — After earning North Eastern Athletic Conference (NEAC) Rookie of the Year honors in 2018, Penn State Abington's Ryan McCarty closed out his sophomore season as the NEAC Pitcher of the Year. He entered the postseason with a 6-2 record on the mound, with all six wins coming in league play.
McCarty ranks first among NEAC pitchers with a 1.43 ERA in conference games and is listed third overall with a 2.81 ERA in 11 appearances. He allowed just seven earned runs and struck out a league-leading 38 batters in seven NEAC games. In his seven appearances against NEAC opponents, McCarty struck out five or more batters in five games with a season-high nine strikeouts coming against State University of New York Cobleskill.
In addition to his pitching, McCarty also serves as an offensive threat for Abington with a .346 batting average, .444 on-base percentage, .478 slugging percentage, two home runs, and 28 RBIs. In addition to Pitcher of the Year, he was named first team all-conference.
The NEAC named a trio of McCarty's fellow sophomores to the second team all-conference: infielders Joe Rizzo and Jaden Himmelreich and outfielder Paul Woodley.
The Penn State Abington baseball team will face off against Rowan University in its first-ever NCAA DIII Baseball Tournament appearance.
The Nittany Lions earned an automatic berth into the tournament after being named the NEAC champions. Rowan University earned an at-large bid into the tournament after posting a 30-11 record and being ranked No. 7 in the country in the most recent NCBWA/D3Baseball.com poll.
The Nittany Lions are no strangers to Rowan after earning one of the biggest upsets of the 2018 season by beating the nationally ranked team 10-7 at Alverthorpe Park last year.
Abington will either face Salisbury University or Washington & Jefferson College in the double-elimination regional, pending the results of game one.
Check abingtonsports.com for updates.
Penn State Abington
Penn State Abington provides an affordable, accessible, and high-impact education resulting in the success of a diverse student body. It is committed to student success through innovative approaches to 21st century public higher education within a world-class research university. With nearly 4,000 students, Penn State Abington is a residential campus that offers baccalaureate degrees in 19 majors, undergraduate research, the Schreyer honors program, NCAA Division III athletics, and more.