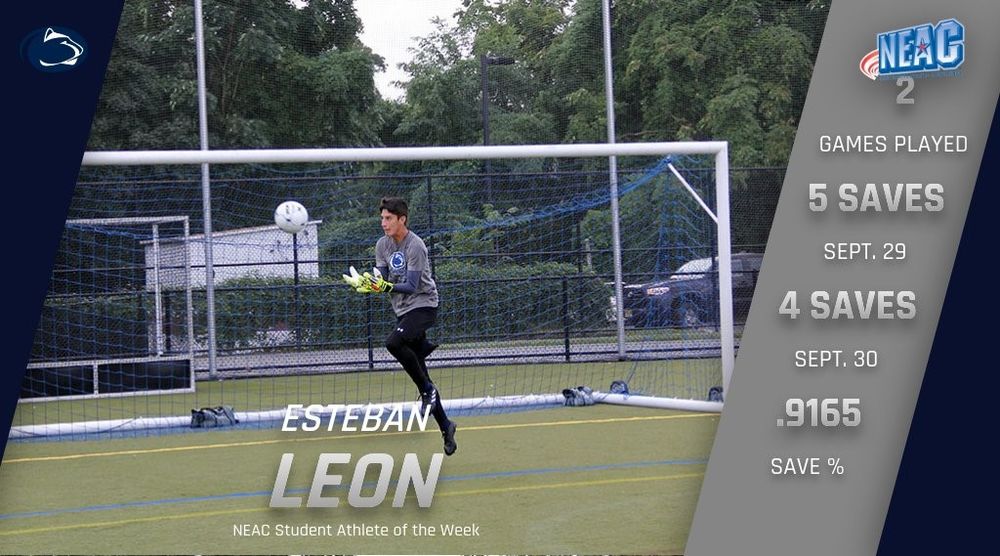 ABINGTON, Pa. — The North Eastern Athletic Conference selected Penn State Abington goalkeeper Esteban Leon as its Men's Soccer Defensive Player of the Week. The rookie, who hails from Florida, allowed just one goal and turned away five shots against Morrisville State College. He recorded four saves in a 2-0 shutout victory against Cazenovia College.
Below is the Penn State Abington athletics scoreboard for the week beginning Sept. 28, 2018.
Men's soccer
Abington 5, Morrisville State College 1
Abington 2, Cazenovia 0
Rutgers-Camden 2, Abington 0
Women's soccer
Morrisville State College 2, Abington 0
Cazenovia College 3, Abington 2
Abington 1, Delaware Valley University 0
Men's tennis
Eastern University 6, Abington 3
Women's volleyball
Rutgers-Camden 3, Abington 0
Albright College 3, Abington 0
Abington 3, Cairn University 2
About Penn State Abington
Penn State Abington provides an affordable, accessible and high-impact education, resulting in the success of a diverse student body. It is committed to student success through innovative approaches to 21st century public higher education within a world-class research university. With nearly 4,000 students, Penn State Abington is a residential campus that offers baccalaureate degrees in 19 majors, undergraduate research, the Schreyer honors program, NCAA Division III athletics and more.